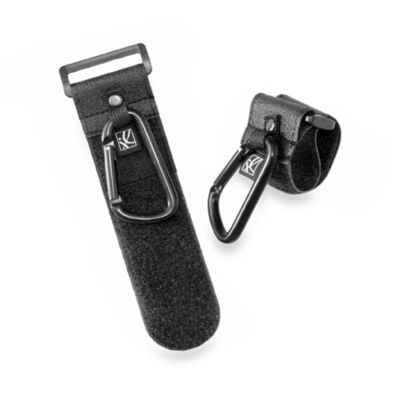 J.L. Childress Clip 'n Carry Stroller Hooks (Set of 2)
The Clip 'N Carry's innovative design and non-slip Velcro strap allows for the Clip 'N Carry to attach to ANY stroller bar - horizontal, diagonal or vertical.
It can even be used on umbrella strollers.
The heavy-duty carabiner clips have been tested for strength to ensure durability.
The spring-lock hook is fully closed which discourages theft, keeps your bag securely attached and won't get caught on clothing.
Using 2 hooks allows for safer cargo distribution to avoid tipping.
Packaged in a 2-pack.
SKU # 17028642
J.L. Childress Clip 'n Carry Stroller Hooks (Set of 2)
6
6
A Necessity !!
I bought these hooks to replace the ones I am using. I like the fact that these are closed so it is not so easy for someone to just snatch my bag. The other hooks were open. I don't know what I would do without having these hooks to hold my baby bags, shopping bags, etc.
August 10, 2011
A Must!
I don't have a lot of space so I bought an umbrella stroller for my baby. Unfortunately, being compact, it does not have any storage space or cup holders on the frame. Fortunately, I found these clips which are portable and strong enough to hang my diaper bag and purse! I can even easily remove this from my umbrella stroller and transfer it to my full size stroller for extra space!
March 18, 2010
Trust me, you need this!
I've owned, and broke, other stroller clips. But this is the best one by far! It's extremely durable and useful. I've attached my purse and shopping bags with ease!
February 27, 2010
hooks on everything
Got these for our recent trip and have used them not only on our strollers but on the grocery cart for bags and high chairs to hook on toys. I love how they come in a two pack as I don't have to switch them back and forth often. The have held up many grocery bags and turn in different directions which is great.
February 2, 2010
Great product!
This is the best hook. It attaches securely on my stroller and is strong enough to hold my very heavy diaper bag. I like that the clip closes so that my bags to not fall off. I would highly recommend these clips!
January 24, 2010
Just as good as the pricey designer clips!
I got the designer clips as a gift with my second son, but hey broke in a month or two. Then I got these and they are still going strong and on my third child! Worth every penny!
January 19, 2010
Related Searches:
Similar Products: