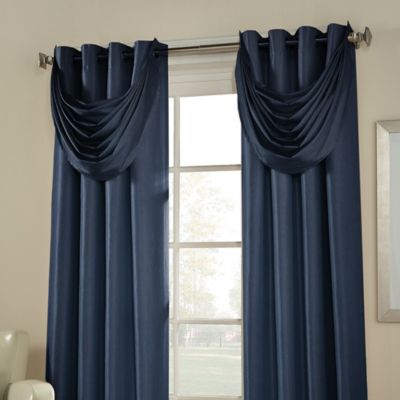 Argentina Pole Top Panel
Due to a 100% cotton flannel interlining the panels block out over 98% of light to give you a good night's sleep and they reduce unwanted outside noise.
Stylish and soft to the touch, these energy-saving panels will also help you save money on your heating and air conditioning bills.
Panels and valances are sold individually.
Face is 52% polyester/48% nylon with a lining of 65% polyester/35% cotton.
Panel measures 54" W.
Tailored valance measures 54" W x 18" L.
Shaped valance has a beaded trim and measures 72" W x 28" L.
Tuck valance has a beaded trim and measures 50" W x 13 1/2" L.
Dry clean only.
Imported.
Argentina Pole Top Panel
41
43
Great look
This product works well and I chose a different / contrast color for the top panel to drape over the actual curtain rod. I love how the colors work together and pull out the other similar colors in the room.
April 28, 2014
Highly irregular product
I love the look of the curtains, but the length is different on four out of the 8 panels I purchased. IF you see the bottoms of the curtains in the room in which you place them - be prepared. I had to return one panel because it did not have an opening to place on the curtain rod. It wasn't worth the trouble for me to re-turn all the panels that were odd lengths - they were off from 1 - 3 inches from each other. I hung the odd length panels on windows in which the bottom of the curtains are hidden behind tables and I placed the curtains with the correct length on the windows where the bottoms of the curtains are visible in the room. Great customer service - at the store. They are shipping me a replacement curtain to the house and no questions asked - although when I showed her there was no opening to hang the curtain - there was not much else to say.
April 28, 2014
Peacock
Great value for the money. Looks expensive. Easy to care for, simply use a steam machine to remove any wrinkles.
April 14, 2014
Definitely Room Darkening
Since changing from horizontal blinds to these, my room is definitely darker. They are very pretty looking, although I thought the color would have been more richer. Overall, I like they way they make my room look.
April 7, 2014
Argentina Pole Top Panel
I love the way the curtains look in my living area. Not too casual and not too formal. Just the right look and color.
March 31, 2014
LOVE THESE DRAPES!
My daughter bought a set of these beautiful drapes about 4 years ago and I loved them so much in her house that when we redid our guest room, I finally was able to purchase a pair myself. I love the sheen and the way they drape, and the room darkening feature is a big plus.
March 24, 2014
Not room darkening
The panels feel nice, and are 3 thicknesses but are NOT room darkening. They are better than regular curtains, but not even as good as a same color (dark blue) twin sheet over the window. They were also VERY wrinkled and you can't just put them into the dryer with a damp towel they must be ironed at the lowest setting which took a LONG time. It was very easy to return to the store.
February 10, 2014
This product is great quality !
I am completely satisfied with the quality of this product ! I noticed right away they difference how the room stayed warm. They arrived on the day as promised. I would recommend these curtains to my friends!
February 3, 2014
Related Searches:
Similar Products: