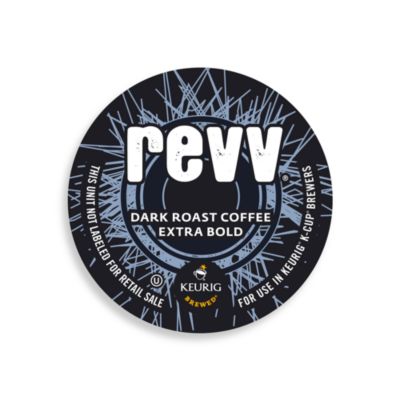 Keurig® K-Cup® Pack 16-Count revv® Dark Roast Coffee
Dark Roast Coffee
revv coffee is created to give you an energy boost without sugar and calories through your Keurig® Brewing System
K-Cup® system allows you to brew fresh drinks in under 60 seconds, one cup at a time
Brewing process takes place inside the K-Cup® so there are no coffee grinds or filters to clean up
K-Cup® pack is for use with Keurig® K-Cup® systems only
SKU # 18109662
Keurig Brewed®There are over 200 varieties of gourmet coffee that have earned the Keurig Brewed® seal of approval. The Keurig Brewed® seal is our commitment that the coffee inside will deliver a delicious cup of coffee every time. Keurig Brewed®, look for the only mark of genuine Keurig Quality.
K-Cup® 16-Count revv® Dark Roast Coffee for Keurig® Brewers
47
59
Rev coffee the best
This coffee is the best for lovers of strong coffee. I don't know WHY the local B B and B stopped stocking it!!! It would sell like hotcakes!
August 11, 2014
A bold cup!
This is a good strong cup of coffee. My favorite k-cup, however, remains the Barista Italian Roast which I would give 10 stars if I could. Revv is good but does not have the roasted flavor that I love.
July 8, 2014
Good but not the best
I like this one. It's bold and strong without being bitter. But my favorite remains the Barista Italian Roast because it tastes more "roasty toasty" and makes the kitchen smell WONDERFUL! Revv is very good, but not the 5-star in my book.
June 28, 2014
Revv K-Cups
My morning isn't complete without at least one cup of Revv. Iv'e tried other extra bold brands and they don't even come close to the robust flavor and satisfaction I get from the this wonderful coffee!! Thanks Revv, keep it coming! :)
June 9, 2014
Great awakener
REVV is the best...but, your stores don't carry it. They should. Need to order online. However, online ordering is a breeze and the stores will order it for me with FREE shipping. That's customer service.
April 21, 2014
Like espresso?
Revv is the closest thing I have found to espresso in the K cups. One cup as my first of the day fires me up to face the world. I move back and forth between this one and a dark Italian roast and thoroughly enjoy both.
March 1, 2014
What a way to rev up your morning! Great coffee!!
Great tasting, never bitter! I look forward to each morning spent with my Revv coffee!!
January 20, 2014
I panic when I'm out.
Rich,smooth, full bodied and the best wake up coffee I've found so far. I drink bold coffee through out the day but, I always start with Revv.
January 20, 2014
Related Searches:
Similar Products:
Also check out:
$49.99

$50 Bonus Gift card with $300 Calphalon Purchase

(1 Review)

5 Pc. Place Setting $29.99