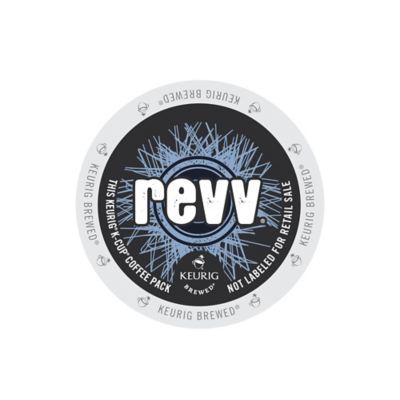 Keurig® K-Cup® Pack 16-Count revv® Dark Roast Coffee
Dark Roast Coffee
revv coffee is created to give you an energy boost without sugar and calories through your Keurig® Brewing System
K-Cup® system allows you to brew fresh drinks in under 60 seconds, one cup at a time
Brewing process takes place inside the K-Cup® so there are no coffee grinds or filters to clean up
K-Cup® pack is for use with Keurig® K-Cup® systems only
SKU # 18109662
Keurig Brewed®There are over 200 varieties of gourmet coffee that have earned the Keurig Brewed® seal of approval. The Keurig Brewed® seal is our commitment that the coffee inside will deliver a delicious cup of coffee every time. Keurig Brewed®, look for the only mark of genuine Keurig Quality.
Keurig® K-Cup® Pack 16-Count revv® Dark Roast Coffee
54
68
excellent taste
The aroma matches the taste. Excellent pricing along with taste. Highly recommend.
November 4, 2014
My husband loves this product & it's not found in stores in our area. The price is excellent, right along with the taste. Highly recommend.
November 4, 2014
This product has a smooth yet bold flavor.
I recently bought my husband an expresso machine which got me hooked on a little stronger, bolder taste for coffee. Revv is a nice substitute for an expresso flavor in a regular cup of coffee. I just hate having to order it online and not being able to find it in the stores.
November 3, 2014
Best Keurig Coffee Capsule I've ever tried!
It's robust and has great flavor. Never tastes watered down like most capsules do! This is great buy for serious coffee lovers than need caffeine!
October 6, 2014
Fantastic Strong Coffee
Love the Revv K-cups, it lives up to its name. Wish they carried it in the store, but the free shipping is really excellent.
September 12, 2014
Revv Great stuff
I can not live without this coffee . I wish they still made Revv Plus
September 8, 2014
I LOVE REVV
LOVE REVV. IT'S COFFEE AT IT'S BEST! TASTY, BOLD AND DELICIOUS!
August 11, 2014
Rev coffee the best
This coffee is the best for lovers of strong coffee. I don't know WHY the local B B and B stopped stocking it!!! It would sell like hotcakes!
August 11, 2014
Related Searches:
Similar Products: