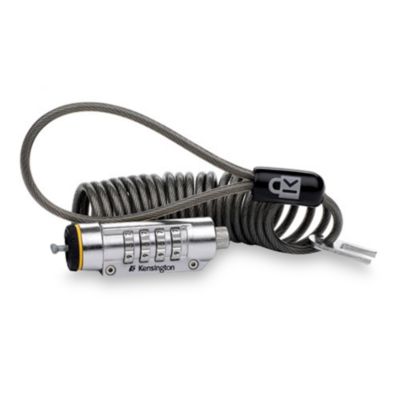 Portable Combination Laptop LockComboSaver® by Kensington®
Using a patented T-bar locking mechanism, the lock attaches to 99% of notebooks with a Kensington security slot
There are 10,000 personalized combination codes and online registration makes it easy to retrieve lost combinations
Extends 3" to 6'
SKU # 17334980
Portable Combination Laptop LockComboSaver® by Kensington®
3
3
Lock it
My son uses this in college to lock his laptop. It is easy to install and remove, and keeps his laptop safe when he leaves the room. Just a note, when first putting on, read the directions.
September 16, 2013
I wish I would have known...
I cannot recommend this product under any circumstance. I thought this would be the ideal solution for my daughter who is in college. Unfortunately, it wasn't until four months later that we found out from a Kensington Customer Representative that a) the combination code can be easily accidentally changed, or b) after ONE invalid attempt at trying to unlock the lock, the lock will freeze. In both instances, only a locksmith will be able to remove the lock. The Kensington CSR also admitted that this fact is NOT documented either online or in the directions that come with the lock. They DO however, remind the customer to 'be careful'. The initial price of the lock sounds pretty good, however, you'll also want to set aside additional fund to hire a locksmith or purchase a hacksaw just in case you aren't 'careful'.
January 30, 2013
Mind at Ease
Just bought a Macbook Pro so I will do anything to make sure it doesn't get stolen and this lock definitely helps. It is however very hard to figure out! I had to have my dad, Mr. Fix-It, help me out and it even took him a half hour to figure it out. The directions that are included do not help very much. Once you have it figured out though rest assured...your laptop will not be stolen.
August 2, 2012
Related Searches:
Similar Products:
Also check out:
$7.99 Each

Exclusively Ours

(4 Reviews)

$14.99

Beyond Value

(37 Reviews)

$29.99

Beyond Value

(6 Reviews)

$5.99

Beyond Value

(16 Reviews)

$29.99 Each

Beyond Value

Exclusively Ours

(19 Reviews)
$59.99 - $99.99
(7 Reviews)

$9.99 Each

Beyond Value

Exclusively Ours

(28 Reviews)

$59.99

Beyond Value

(35 Reviews)

$34.99 - $59.99
(75 Reviews)

$29.99 Each
Oversized
(25 Reviews)

$24.99

Exclusively Ours

(6 Reviews)

$9.99

Beyond Value

(4 Reviews)
$24.99 - $49.99

Clearance!

(5 Reviews)