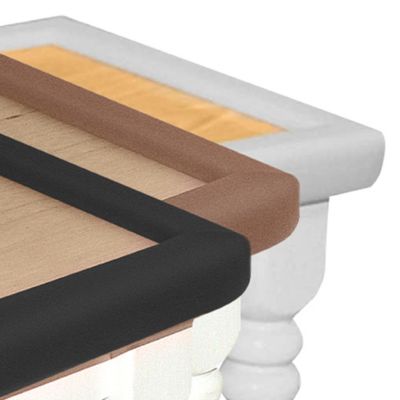 KidKusion® Soft Edge Cushion Strip
This soft foam cushion strip covers up to 12-feet of furniture edges, and secures with the included double sided tape.
Foam can easily be trimmed to fit as needed.
Indoor use only.
Not for use on fireplace hearths.
KidKusion® Soft Edge Cushion Strip
4
4
Cheap material, not sticky
This product is made with cheap foam and it does not stick to furniture well. I now have to make a trip to the hardware store to find some sort of adhesive so that I can actually use this product. Sure, once it actually sticks it should serve its purpose, but it is made with cheap material and is too expensive for what you actually get.
December 22, 2011
Worst Ever!
This stayed stuck to our fireplace for literally 30 seconds! Don't waste your money
May 21, 2014
What's not to like?
Excellent product, fully achieves purpose. Nice and dense, so sustains even a hard hit. Looks elegant. The tape, which comes separate from the foam, held nice and firm (though one could use any two-faced tape one chooses). We applied it to the far ends of the baby's changing table to prevent injury when our baby jumps and extends his head upward toward the wood perimeter. Works great.
February 24, 2014
Look somewhere else...
Just bought the KidKushion edge guard to cover sharp edges on a dining table and I am returning it... Couple of things that I noticed: - KidKushion only provided enough tape to cover one side of the edge!!! For $16.99, I can't believe that they couldn't include tape for both edges of the guard. My toddler can easily rip off the guard since one side is not taped down. - The packaging and website do not indicate that it's non-toxic, etc... so I assume it's made of toxic materials? I'm looking elsewhere...
February 14, 2011
Related Searches:
Similar Products: