Kiss My Back!® Ergonomic Mesh Back Support
It's an ideal solution for the car, office or at home
Features adjustable buckle and nylon straps that easily fits car seats, office, and kitchen chairs
The mesh fabric allows comfortable air flow, minimizing perspiration
Smart and healthy ergonomic design helps to increase one's productivity
Durable, lightweight and portable
Fits most chairs
1-year manufacturer's warranty
Model 32850
SKU # 16757730
Kiss My Back!® Ergonomic Mesh Back Support
24
27
Ok, but not quite the right fit, and too fragile
I just bought a new car. Unfortunately, this brand new car that I got is not anywhere near as comfortable as my old one (or any other car I've been in), so now I have to resort to making it work. It's a frustrating thing to have to go through, but it's giving me back pains which ebb for a day after driving. Needing a solution, I went for this product first. It worked at first, but it offered too much support. This put pressure on my lumbar region, but it was better that what I had before. I decided to keep the product. However, it would move around the seat easily. It would go in the crack between the bottom and back cushion, and would need to be readjusted. I decided to tie it tighter to the seat to keep it in place. After three weeks, the strap in the back broke. That was disappointing, but I can still use the support. I'm trying my car without this support for a while to see if I can improve my situation in other ways. It was better than using nothing, but it's still far from ideal. Though this product can be used in cars, it seems more designed for chairs, or something in which the user sits upright. Good product, though.
September 12, 2014
It's light weight and blends into the chair as to not be noticeable It supports the small of the back perfectly. Great for a car as well.
August 18, 2014
Mesh is too stretchy
I had bought this previously and it worked great, but after about a year it started to tear. I got two units this time, both have mesh that is too stectchy so it doesn't provide much support, my back actually touches the back of the chair when I lean into it. I ended up putting a pillow in it to give support, the mesh back support does a good job holding it in place.
July 30, 2014
Kiss my back
This is NOT the back support that u buy at the 99 cent store that only lasts a couple of months. The wire frame is thicker , the elastic mesh is heavier and the back straps adjust and do not streach out. Well worth the extra money.
May 14, 2014
Hate it, terrible product!!!!
This back support has no support at all and does not fit well on the chair. Don't waste your money.
April 21, 2014
Mesh Back Support is good bang for the buck
I have 1 for car and 2 for office chairs. Gave 4 on Quality since it lacks vertical support band. It holds well from sliding side to side. But needs a similar belt to hold it from sliding down, when a chair's back rest is held up only by a support bar. Then 2 vertical braces could help to hold it in place.
April 14, 2014
Love it!
I have back pain daily, as I have had fractures in my back several years ago. Kiss My Back really helps to reduce my pain when I am sitting . I actually bought 3 of them so I have one in my office chair and in each of my vehicles. I would recommend this product to anyone, even if you don't have back pain, and especially if you do,
March 17, 2014
Significantly reduce my low back pain
Great product! Super happy. Greatly reduced my low back pain! I have only been using this a couple days and I'm already having relief from my pain. I sit at a desk all day long, so this has been a really big help. Very satisfied.
March 5, 2014
Related Searches:
Similar Products: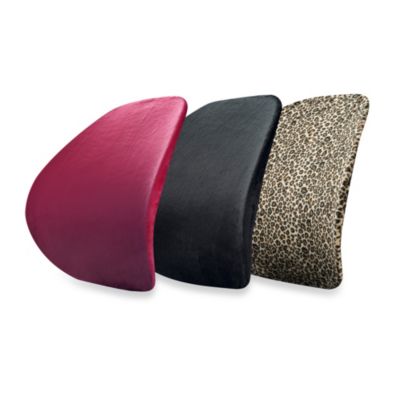 Kiss My Back!® Stylish Comfort Cover
Price:
$9.99
Colors:
black, leopard, pink
Categories:
More > Health & Wellness > Home Health & Mobility
Add a designer look to your chair's back support by jazzing it up with a Kiss My Back Stylish Comfort Cover. Enriches the look and feel of your mesh back support, at home, the office, and in the car. A unique look that is fun and comfort enhancing.
Also check out:
$26.99 - $44.99
(1 Review)