KitchenAid® Slicer/Shredder Attachment
KitchenAid® Slicer/Shredder Attachment includes four standard cones: coarse and fine shredders and thick and thin slicers
Attaches to Power Hub
Compatible with all KitchenAid® stand mixers
Model RVSA
SKU # 10151511
KitchenAid® Slicer/Shredder Attachment
34
34
So Sad
I had a gift card to BB&B and was so excited to get this attachment for my KitchenAid but unfortunately I have found the same problem as everyone else. It mushed my veggies. Food was stuck between the blades. I would rather use a knife and scissors to cut my veggies and make my salad than use this attachment. I am so sad too because I love my KitchenAid!
July 30, 2014
Best Shredder Ever
I absolutely LOVE this product and use it almost everyday in the kitchen to shred cheese, potatoes and make chips. I have had no trouble removing the blades if you keep the shredder attached to the blender and remove the blades while attached it removes very quickly and easily. The flavor of shredded cheese from blocks is SO much better than already shredded cheese from the store and my kids LOVE homemade potato chips that I use this product to make!
January 13, 2014
Works great
I have used the all metal series growing up and was concerned about getting the new plastic housing style but it seems as it is reinforced in all needed areas. Don't worry about keeping a wrench in the kitchen to remove the spindle from the cutters as there is a built in square on the front of the housing that you use to remove the spindle while you keep the housing mounted in the mixer. I was glad to see this feature continued when they changed the housing material from metal to plastic.
December 31, 2013
Shredder/slicer attachment
I have the 600 Pro stand mixer. I tried to use this attachment and when I went to disengage, I had to use a plier to pry off the shredder and knock off the cone. This is not good. The video does not explicitly show how to attach the attachments. The model I have is
November 27, 2013
Buying it again!
I have had both my attachment and mixer for 17 years and both have served me well. The main part of the attachment has been cracked for a couple of years and finally shredded its last pound of cheese. Shortly after buying, I realized that I needed a small tool with a couple of wrench sizes in my gadget drawer (which is just handy in the kitchen for many purposes) to change out or remove blade from the other little piece that turns it. Honestly, it's never been a big deal to grab a anti-slip pad to hold blade and use a wrench to detach. I have always put the various pieces in the dishwasher without a problem. I am glad that I still have my blades that have never rusted should that be an issue with the new blades.
April 26, 2013
My KA is my favorite kitchen appliance!
I have had this attachment for almost 2 years and use it weekly to shred cheese and I love it! Last week I used it to shred vegetables for the first time and it worked wonderfully for that too. I can't wait to try it out to slice potatoes. I have had problems with rusting, but am going to try oiling the blades. Like others have mentioned, the first couple times I used it I had a hard time removing the blades but that is no longer a problem.
March 8, 2013
GOOD PRODUCT
I love thsi slicer/shreader attachment. Some people say they have a hard time removing the blades. Just stand it on the counter and use a 11mm wrenth to tighten and loosen the blades easy to remove,
January 14, 2013
Handy Addition to my Kitchen
I was considering buying a food processor, but space is an issue in my small kitchen. I already have a Kitchen Aid stand mixer so I had the thought to look for an attachment. This really is a handy attachment. I've used it on both cheese and vegetables. The only issue is that the post that attaches the drum to the white plastic part can be VERY difficult to remove. In fact, I had to raid the tool box to find something that would unlock the mechanism. The instructions say that the parts can go in the dishwasher but I have always hand washed all of my Kitchen Aid parts. I usually let this attachment soak in hot soapy water for a while and that takes care of any stuck-on leftovers.
December 8, 2012
Related Searches:
Similar Products: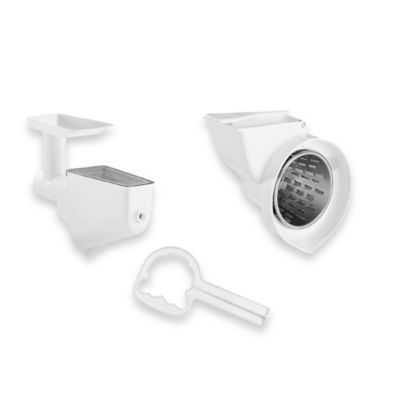 KitchenAid® Mixer Attachment Pack with Strainer
Price:
$129.99
Brand:
KitchenAid
Categories:
Kitchen > Small Appliances > Mixers & Attachments
This mixer attachment pack contains rotor slicer/shredder, food grinder, and fruit/vegetable strainer. Rotor slicer/shredder can be used to turn firm vegetables and fruits into shreds and slices.
KitchenAid® Mixer Attachment Pack
Price:
$99.99
Brand:
KitchenAid
Categories:
Kitchen > Small Appliances > Mixers & Attachments
Use the full potential of your KitchenAid® Stand Mixer with this versatile attachment pack. Includes food grinder, rotor slicer/shredder, and sausage stuffer kit. Easy to use and install on the attachment hub of stand mixer.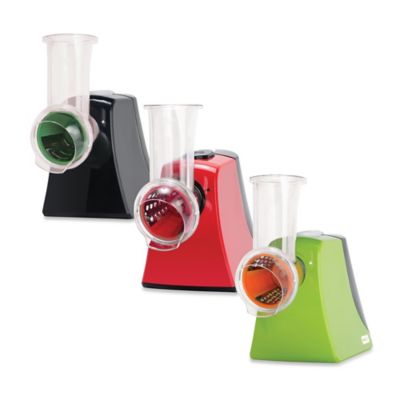 DASH™ Go Salad Chef
Price:
$49.99
Brand:
DASH™
Categories:
Kitchen > Kitchen Tools & Gadgets > Choppers, Graters & Slicers
The many features of the slim, compact DASH Go Salad Chef make it a useful tool to have in the kitchen. It features 5 different attachments that change it into a thick slicer, coarse shredder and more.