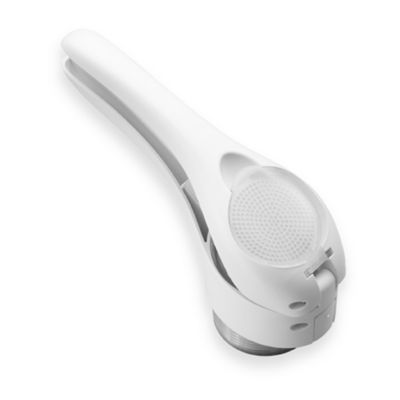 Kuhn Rikon Potato Ricer
Includes two separate interchangeable disks including one with fine holes.
Dishwasher safe.
SKU # 16311030
Kuhn Rikon Potato Ricer
9
9
A behemoth of a tool
It works just great as a way of squeezing the water out of your potatoes or making home made mashed, but boy is it a BIG tool to use. Takes up a bit of cabinet space, hope you got it.
March 16, 2014
Love the end result from using ricer...creamy, smooth potatoes!
March 10, 2014
Wonderful product
It is very easy to clean. I love that you can change the plate and has a place to store it. Worked very smooth!
January 13, 2014
Versatile
My parents had a ricer when I was growing up so this is definitely a nostalgia piece for me. The ricer is sturdy, well-made and has provided me with not only great potatoes, but also rutabagas and carrots! If you use anything but the potato, however, make sure that the vegetable is soft enough so that it can be put through the holes of the ricer and also doesn't strain your hand or wrist when squeezing!
January 2, 2014
Suddenly I want to rice everything.
I'm a big gnocchi fan. I bought this ricer based on its high ratings and the existing reviews and am very pleased with the item. It's intuitive to use and the parts that would be painful to keep clean otherwise come out easily. Only problem is I now want to rice everything.
August 5, 2013
Just what I needed
This potato ricer provides the best outcome for mashed potatoes & squeezing the excess water from shredded potatoes for making crispy hash browns. Sturdy & yet to use. Be sure to use small batches in the cylinder so there is no excess spilling over/out of it.
March 14, 2013
I love the way this makes mashed potatoes. No more lumps.
May 2, 2012
Potato Ricer
This ricer is a jem in food prep -- manufactured quality is quite excellent and durable. It is simple to use and clean. The Swiss have produced a true value and included both a container-hitch and a compartment for the second stainless steel disk. I love it.
March 1, 2012
Related Searches:
Similar Products:
Also check out:
$14.99

$50 Bonus Gift card with $300 Calphalon Purchase

(20 Reviews)

$39.99 - $49.99

Exclusively Ours

(23 Reviews)
$12.99 - $13.99
(18 Reviews)

$3.99

Free Standard Shipping

$9.99

Exclusively Ours

(4 Reviews)
$25.99

Excluded from Pack and Hold