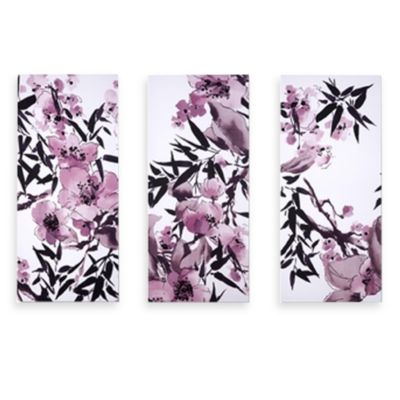 Kyoto Cherry Blossom Wall Art (Set of 3)
Each panel measures 16" W x 35 1/2" L.
SKU # 17302256
Kyoto Cherry Blossom Wall Art (Set of 3)
10
10
Beautiful!!
These canvas prints look absolutely amazing with the theme I have chosen for the bathroom of my new apartment!
October 21, 2014
The size is wonderfully dramatic!
We have a home that was built in the 1920's, so we like the fact that this is tall enough to accomodate our high ceilings and add drama. We like that it's a simple way to modernize a room. The print was a bit large on the canvas. We had to cut the excess off of the back to hang it. The purple color isn't as "plum" as I thought. It's got a bit of a "mauve" look to it, although still beautiful! I was definitely suprised by the cheap rhinestones on it. They do add a bit of sparkle, so I don't completely hate it! I was glad that I had a coupon for this purchase!
August 27, 2014
great set
Beautiful!!! I loved this set the moment I saw it. I have gotten so many compliments on this set of canvas prints! I based how I designed and decorated my living room off of these...I would recommend it to anyone! it is large, but looks great on a focal wall!!
January 16, 2014
Problems with this set
Had I written this review a week ago, I might have given it a lot more stars and kudos. However, it has been nothing but trouble. I ordered the set online and when I was finally ready to open the box and hang the set on our bedroom wall, I discovered that only one of the three panels had been shipped! Customer Service was great, though, and I was shipped a replacement set immediately. I was told to take the 1 panel back to the store, which I just did. Once I hung the 3 panels, my husband and I really liked the effect and we were both pleased with the purchase. The colors matched our bedroom perfectly! However, last night I happened to look at the panels - and two of them are now "bubbled." In other words, the canvas is not stretched tightly on the frame. Sigh. This is frustrating! I really don't want to return the panels because we don't have anything to hang in their place and I don't want to patch and repair three holes! I guess I will try to see if I can stretch the panels tighter on the frames. If not, I will be returning them. This set was too expensive to not be happy with the product.
November 15, 2012
tacky rhinestones ruin these
i am dead convinced that the web site made NO mention of those horrible, tacky rhinestones when i registered this for my wedding. i could be wrong, but i just don't recall reading that -- i never would have asked for them if i had noticed! anyway, looked really pretty in the picture, but then they arrived and i came face-to-face with these garish, black rhinestones that completely ruined the whole thing. they were immediately returned!
September 19, 2012
Beautiful but Big
This piece is definitely a beautiful piece of work. However, for my apartment it was just a little too big. It was also a little difficult to hang simply because you have to line it up perfectly. If I had higher ceilings I'd definitely have kept it.
August 16, 2012
BEAUTIFUL
I cannot tell you how many compliments I get on this set of Art. I have it in my bedroom over my bed and it looks so elegant. The jeweled embellishments add an extra pop and make the pieces even more unique. I would recommend them to anyone.
June 2, 2012
The Perfect Ensemble
Had to wait about a month because this set of 3 was on backorder, but once received, I was very impressed. I hadn't seen anything quite like this anywhere else. It's the perfect trio with an even blend of whites, lavendars and deep purples. Wonderful picture for any elegant room decor.
October 5, 2011
Related Searches:
Similar Products: