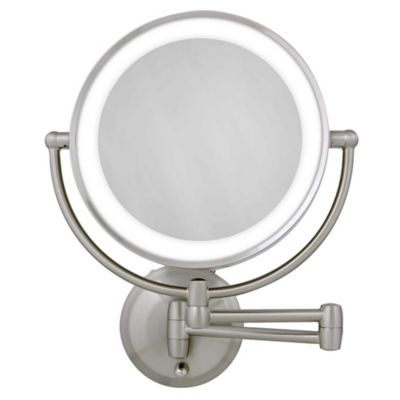 Zadro™ Next Generation LED 1x/10x Magnification Wall Mount Mirror
Includes LED bulb and external power adapter
Measures 11" H x 14" H x 2 1/2" in diameter
90-day warranty
SKU # 16973823
Zadro™ Next Generation LED 1x/10x Magnification Wall Mount Mirror
5
7
Broke after 19 months
This was great until it broke last week. One of the supports that the mirror flips on broke, also disconnecting the wiring for the light. It's all inside and doesn't seem fixable - and the warranty was only 90 days.
October 13, 2014
Very nice!
Mirror is quality made and I am satisfied with all aspects of the mirror.
September 12, 2014
Great Mirror
This is a wonderful mirror! And I've tried many. It's not confusing as above poster said - you can plug it in or use batteries... The magnification works great and I can't live without it.
September 14, 2013
disappointing mirror
I returned this mirror because the light was so dim, it wasn't worth the money. I even had a 20% off coupon and it still wasn't worth it.
January 14, 2012
considering purchasing
The product description is confusing. How long will the arm be once it is extended? That's an important dimension to know before deciding whether or not to purchase. Also, how is it "cordless" when it comes with an "external power adapter?" Needs more explanation.
December 7, 2010
Related Searches:
Similar Products: