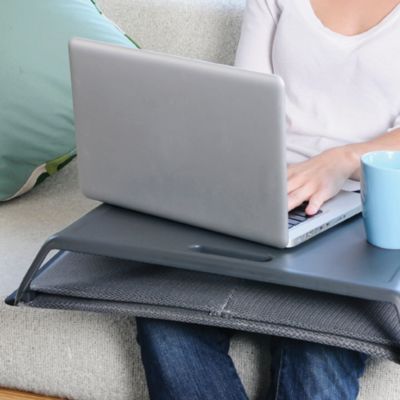 Lap Lite Lap Desk
AirLoft™ technology means less material between your lap and your laptop.
The Lap Lite Lap Desk also has a handy pocket to store documents, magazines, and other office items.
Holds a 17" laptop.
Measures 4" H x 14" W x 21 1/2" L.
SKU # 17277650
Laptop Desk
My laptop was too hot to sit on my lap and use for any length of time, so this is solving the problem. It sits comfortably on my lap, keeping my laptop cooler. I have a 17" computer and it takes up the whole top surface, but that is okay.
July 8, 2014
Love, Love, Love this Lap Desk!
I bought this laptop desk 2.5 weeks ago and I am totally thrilled with it. The height is perfect for typing while sitting on the bed. I love the handles and the pocket on the back. For the price, it's better than I'd hoped for!
February 24, 2014
About to buy my 2nd one...
Overall this does a good job of keeping the computer cool, and balancing on my lap. The fabric on top frays horribly. The strings from the fraying tickle my legs which gets annoying, and if you pull them it only frays worse. Also, after about a year, the left side leg broke. It's always been a bit flimsy, but it fully broke. Overall, not bad for the price, but I wish it would have lasted a bit longer.
November 9, 2013
Used twice and already broken
I have owned this lap desk for a little over a week and it is already broken. I've used it a maximum of two times - both just writing an essay. I noticed today when i picked it up, the leg was broken on one side. Not happy!!! Also, the fabric on the top of the desk frays VERY easily and will not stop. Seemed great at first, but definitely not worth the money. Going to return it ASAP. Save your money and buy one that has the foam beads at the bottom - at least that one will last longer
March 10, 2013
Lap Lite Lap Desk Pros and Cons
This is my fourth Lap Lite Lap Desk. It has some wonderful features and some not so wonderful ones. I love the size. Truly fits the laptop without slipping off. It also keeps the laptop cool. The problem is with the plastic feet that run from back to front. They are poorly constructed and break very easily, thus making the dynamics of the desk fail. My first 2 lasted about a year each, which I thought was ok for the price. My third came broken, which I had replaced at my local store as an exchange. After a month, I can feel the weakness already in the left side foot. If this fails in less than a year, I will not replace it again. I am not a heavy user, nor do I treat the item poorly. It is truly either a design or manufacturing issue. The first two I had seemed much more structurally sound, and only broke after harsh treatment by my young daughter. Hope this helps you decide!
January 14, 2013
Love Love Love!
I wish I'd bought this when I first got my laptop! After almost 2 years of having my laptop, my husband saw this when we were shopping at BBB and bought it for me. It's a LEGsaver! No more red marks on my legs from the heat, no more laying a towel across my lap - not only that, but it raises it to a much more comfortable level and angle and when I want to use my laptop in bed, it's the perfect height! My son recently got a laptop and has "borrowed" mine, so I guess it's time to get another one!
December 23, 2012
Lap Lite Lap Desk
Great Product. I use it for more things than just a computer. It works great to lay my knit and crochet patterns on when putting the Lap Desk on my knit basket. Or for my Grandson to put the kindle fire on so he does not have to angle his neck down so far.
August 24, 2012
MATERIAL DOES NOT HOLD DECK OFF LAP
I had purchased one of these in Tucson and they were great. I couldn't take it with me on the plane (too much to carry). When I came back to San Antonio, I purchased another, and found this to be inferior. The fabric is not tight enough underneath to keep the tray from sitting on my lap, and I could feel the heat from the laptop. If the fabric were tighter it still would not work, as the sides of the tray that the fabric is attached to is flimsy and bends in. I checked through 6 boxes of them and found the same problem on each one. the tray was more sturdy on the Tuscon model. I am in the process of trying to figure out a way to make this work.
August 19, 2012
Related Searches:
Similar Products: