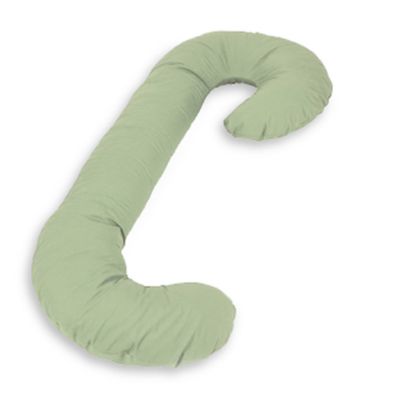 Leachco® Snoogle® Maternity Total Body Pillow Replacement Cover in Sage
Made of 65% polyester/35% cotton for comfort and ease of use
Snoogle pillow not included
Machine wash
Made in the U.S.A
SKU # 15038357
Leachco® Snoogle® Maternity Total Body Pillow Replacement Cover
8
9
Sleeping better
I do love this pillow. The material the cover is made out of does make it a bit warm while sleeping, but it is tolerable. I did read other reviews before purchasing and saw several about the seam at the top of the pillow. It is very tight and uncomfortable, my solution was to just turn it and use the bottom as the top instead. Much better. I have been sleeping really well.
July 18, 2014
Cute
It is a cute design. Fits well on pillow. A little pricey for a pillowcase though.
April 14, 2014
Disappointed
The cover on the base pregnancy pillow was really itchy and it ended up getting hot and scratchy and waking me up. I purchased the cover in hopes of having a softer surface for the pillow. I was shocked to find that the cover was made of the same low quality itchy fabric! The case was also very difficult to put on even if you put it on like a sock as recommended by other reviews I read. The biggest downside is that the product instructions recommend you wash it before you use it. Since the fabric was scratchy I thought it may help to put some fabric softner in the wash but notsomuch. It had zero improvement after being washed. Now that its been washed I feel like I can't return it. Pretty sneaky tactic I think to suggest to wash it before using it...Its really a low quality product not worth the price. I would recommend to the company to use a higher level cotton fabric with a zipper enclosure so that it serves its purpose and doesn't frustrate pregnant mothers to be. I would recommend consumers to look for something different.
June 14, 2013
the size does not fit the actual pillow
I got the pillow on amazon and I found out that the cover was cheaper on Bed Bath & Beyond. I love the shop and I use it often, but the cover was not available in store but just online. I order it and it is super difficult to put it on the pillow: I ended up covering only half of the pillow with the cover. I wanted to return it but what I actually would like it is a replacement, in the hope that it fits better, but I am not sure.
April 24, 2013
Great! Easy to Put On!
Today I received the Snoogle cover for my wife. It took me less than 5 minutes to put on and looks very nice. I do not understand why so many people are complaining about how long it takes to put on. Especially one saying that someone tried for 45 minutes and couldn't get it. The product is a bit pricey but other than that it is a great product. I recommend.
June 12, 2014
When I bought this Item I was looking forward to getting it in the mail. My husband washed it for me before I got home yesterday and he spent 30 minutes trying to put the pillow cover on. He was unable to because of how extremely hard it was. I finally got it on after he tried so long and he was wanting to have it ready for me when I got home late last night... This is NOT worth the price. It is way over priced for the complication. I don't know why the company thinks it is worth anywhere near the price it is being sold for. I do not recommend this.
September 11, 2013
Not really worth the money
So I wrote a review on the actual pillow- which i love, but this is just for the pillow case. I had bought the pillow case so it would go with my bed room. It's REALLY hard to put on, which i figured it would be, but for the life of me, I can't get it completely on there. There's a gap on it that I can't get covered up. Not a huge deal, just annoying. It's itchy! it's the same fabric that comes on the pillow case that's already on the pillow. I'm slightly picky about my sheets, I mean usually I get about 300-400 thread count and I try to get egyptian cotton so that they're softer. This thing has to be about 200. It makes my face really itchy and can make it difficult to fall asleep. It's already difficult to fall asleep when you're pregnant and you're already itching all over the place. If they're going to charge an extra $25 for a pillow case, they could at least make it decently soft. My advice- stick with the one that comes on the pillow if you can. Not worth spending the extra money on.
January 29, 2013
Awsome Purchase!!
This pillow totally helped me sleep at night!! I was so uncomfortable starting early in my 3rd month and this is a life saver. I love the fact that I can wrap it around to sit up in bed and I look forward to using it when my baby boy is born!
November 12, 2011
Related Searches:
Similar Products: