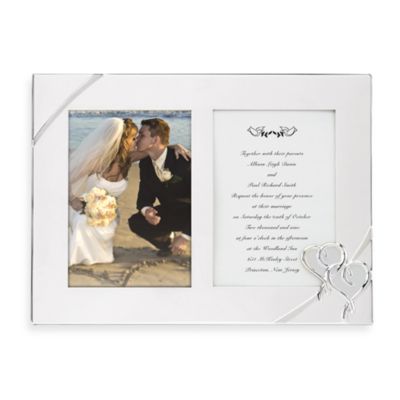 Lenox® True Love Double Invitation Frame
Measures 9" H x 12 1/2" L
Openings measures 5" x 7"
SKU # 16767131
Lenox® True Love Double Invitation Frame
5
5
Simply Elegant
I was looking for something simple for our Golden Wedding Anniversaery photo. The gold one in the store was scratched so the clerk ordered me one. Yeah! When I opend the package I saw a silver frame, beautiful, but not what I wanted, so back to the store for a replacement only to learn they no longer come in gold. The frame was so perfect I took it home and plan to use it for black and white photos of my husband parents and my parents wedding photos. So I recommend it for anyone, not just newlyweds.
September 12, 2014
Beautiful keepsake!
My sister and maid of honor gave this frame to me for my bridal shower. I absolutely love it! It's simple, elegant, and not too cutesy like so many wedding keepsakes can be. I can't wait to put our wedding invites and pictures in this and display it in our home -- what a beautiful way to honor our special day!
June 30, 2014
Very pretty!
This was a wedding gift for my niece. She loves it! It is a perfect match to her guest book and cake server. Have always loved Lenox!
February 27, 2013
Stunning
I just received this as a bridal shower gift, and it's absolutely gorgeous. It's very shiny, clean, and elegant. It's perfect. I'd recommend this to anyone looking to capture and display a memory.
March 17, 2012
Aggravating
I bought this frame and it is aggravating the back of the frame pops off every time I clean it or pick it up. Not recommended to purchase for anyone.
October 7, 2011
Related Searches:
Similar Products: