"Lenox® Butlers Pantry® Creamer" is not available for sale online.
This item may be discontinued or not carried in your nearest store. Please call your local store to check in-store availability before heading there. For informational purposes, the product details and customer reviews are provided.
Related Searches
Similar Products
Brand:

Lenox


Categories:

Dining > Serveware > Serving Bowls & Baskets
Serveware > Serving Bowls & Baskets

Colors:

ivory/cream


Sizes:

RICE BOWL


An elegant classic, Butler's Pantry stoneware-crafted dinnerware adds a vintage touch to every gathering. The pattern is distinguished by graceful silhouettes featuring embossed patterns and gently scalloped edges.

View More
Brand:

Pfaltzgraff


Categories:

Dining > Dinnerware > Dining Accessories
Fine Tabletop Open Stock

Colors:

green/red


Sizes:

RAMEKIN


Pfaltzgraff's charming Winterberry Dinnerware Collection is a seasonal classic. Each piece of this beautifully crafted stoneware and glassware features brightly colored holly berries that add welcoming warmth and style to your table and home.

View More
Brand:

Lenox


Categories:

Trends & Ideas > Gift Shop > Hostess Gifts
Fine Tabletop Open Stock
Gift Shop > Gifts for the Home

Colors:

ivory


Sizes:

5"


Lenox's beloved Holiday Collection beautifully captures the spirit of the season. Adorned with a festive wreath of deep green holly, ripe red berries, and 24K gold accents on ivory porcelain, this graceful pattern is sure to become a family tradition.

View More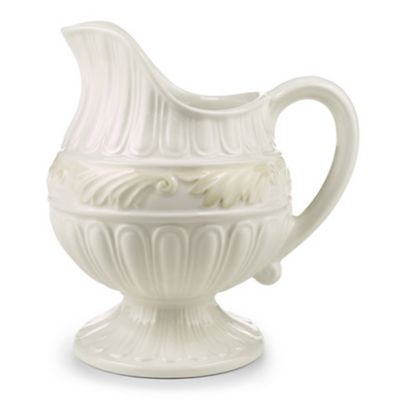 Lenox® Butler's Pantry® Creamer
Superior Lenox craftsmanship ensures exceptional durability.
Mix and match these lovely pieces with virtually any china, stemware or flatware.
Hand wash.
Imported.
SKU # 12850646
Related Searches
Similar Products
Brand:

Lenox


Categories:

Dining > Serveware > Serving Bowls & Baskets
Serveware > Serving Bowls & Baskets

Colors:

ivory/cream


Sizes:

RICE BOWL


An elegant classic, Butler's Pantry stoneware-crafted dinnerware adds a vintage touch to every gathering. The pattern is distinguished by graceful silhouettes featuring embossed patterns and gently scalloped edges.

View More
Brand:

Pfaltzgraff


Categories:

Dining > Dinnerware > Dining Accessories
Fine Tabletop Open Stock

Colors:

green/red


Sizes:

RAMEKIN


Pfaltzgraff's charming Winterberry Dinnerware Collection is a seasonal classic. Each piece of this beautifully crafted stoneware and glassware features brightly colored holly berries that add welcoming warmth and style to your table and home.

View More
Brand:

Lenox


Categories:

Trends & Ideas > Gift Shop > Hostess Gifts
Fine Tabletop Open Stock
Gift Shop > Gifts for the Home

Colors:

ivory


Sizes:

5"


Lenox's beloved Holiday Collection beautifully captures the spirit of the season. Adorned with a festive wreath of deep green holly, ripe red berries, and 24K gold accents on ivory porcelain, this graceful pattern is sure to become a family tradition.

View More