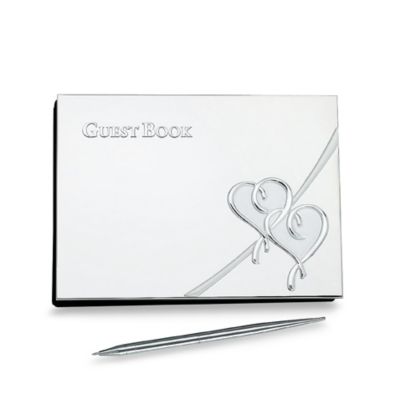 Lenox® True Love Guestbook with Pen
A gracefully tapered silverplate pen is also included.
After the occassion, this lovely piece makes a cherished keepsake of your special day.
Measures 7 1/4" long.
SKU # 17103105
Lenox® True Love Guestbook with Pen
2
3
nice complement to other true love items
we had a photobooth with accompanying guestbook at our reception, but because we used the true love champagne flutes and cake tools, we decided to get this as well, ans put it out during cocktail hour. it's nice to have that additional guestbook to look through, and it's not so huge that you feel like no one signed it (we had a larger than average -- 250 attendees -- wedding, though, and still had enough room, because most people don't go sign your guestbook during cocktail hour).
September 19, 2012
Very Nice
This guestbook is really nice, a little small, but has a lot of pages. It's still a good size to be able to store away, and it's not big and bulky. Solid outside, and felt lining on the inside.
March 17, 2012
Related Searches:
Similar Products:
Also check out:
$49.99

Gift with Purchase

(15 Reviews)

2 Piece Set $39.99
(4 Reviews)

$14.99

$9.99

Clearance!

(14 Reviews)

$9.99

Free Standard Shipping

Exclusively Ours

(153 Reviews)

$34.99 Each

Free Standard Shipping

2 Piece Set $39.99

Exclusively Ours
$49.99

Free Standard Shipping