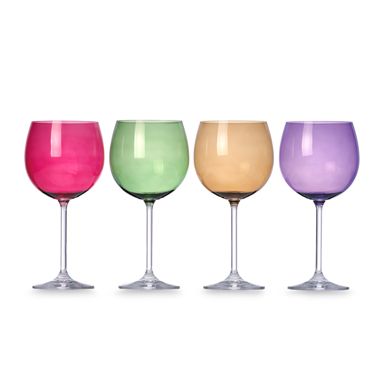 Lenox® Tuscany Harvest Assorted Balloon Wine Glasses (Set of 4)
Crafted of Lenox non-lead, break-resistant crystal.
Hand wash.
SKU # 17589091
Lenox® Tuscany Harvest Assorted Balloon Wine Glasses (Set of 4)
4
4
Pretty, but not perfection
I have to agree with the person who said these were larger than expected. They're very big! They're pretty and I like the colors, but some of them have air bubbles inside the glass. I don't know if that's normal, but it seems to me that should have been caught during the quality inspection. Also the brand name is etched on the underside of the bottom of the glasses which shows through as you look down at the glass. That wasn't shown in the picture.
November 27, 2013
Beautiful!
I received as a wedding gift and they are my favorite glasses, love the colors!
October 10, 2012
So huge!
I added these to my registry because I thought they were pretty -and they certainly are- but upon receiving them I realized how very huge and goblet-like they are! Obviously, I could have looked at them in person and/or read how many ounces they hold but instead I did all my registering online and kind of haphazard. SO while I really like them for the colors and have had no problem with the quality (none have broken yet!) the size had gotten me in trouble because "one glass of wine" in these is more like a whole bottle!
June 11, 2012
Beautiful but..
I received these wine glasses as a wedding gift and feel in love with them instantly. My husband and I are avid red wine drinkers and we loved theses glasses until we used them! On one of the glasses the stem broke and the other glass split! The quality of these glasses is not what one would expect from Lenox. They are flimsy. Again loved the colors and design but the quality just isn't what it should be.
November 8, 2011
Related Searches:
Similar Products:
Also check out:
4 Piece Set $39.99
(6 Reviews)

4 Piece Set $39.99
(1 Review)

8 Piece Set $59.99
(5 Reviews)

$4.99

Beyond Value

(13 Reviews)
$12.99

$9.99

Clearance!

(9 Reviews)

$9.99

Exclusively Ours

(2 Reviews)

$9.99

Free Standard Shipping

Exclusively Ours

(92 Reviews)

$59.99

$50 Bonus Gift card with $300 Calphalon Purchase

(4 Reviews)

$11.49

Free Standard Shipping

(6 Reviews)

$19.99 - $59.99
(59 Reviews)