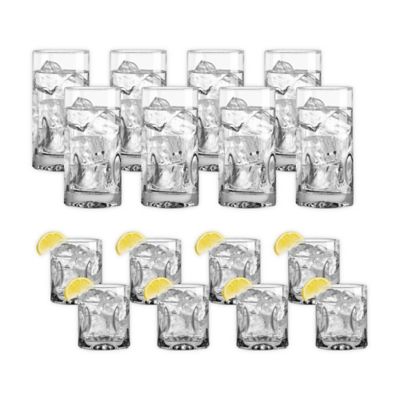 Dailyware™ Impressions 16-Piece Set
Dailyware™ Impressions 16-Piece Set
34
35
Great glasses
These glasses are very nice quality. The bottoms are super thick to give it the weight but the walls of the glass aren't crazy thick so they are easy to drink out of without spills. My favorite quality about the glasses are the grooves in the sides. I did not think I would like the grooves in the sides but it really helps with grip on the glass.
August 19, 2014
Durable and Sleek
I have had these glasses for over four years they have held up to my dishwasher and my 2 year old. I have just recently broke a few glasses. I am going to buy another set. I like the price and the durability is fantastic.
May 22, 2014
We love this glassware
We received the Libbey Impressions Glassware for our wedding a few months ago. The glassware is very sleek and modern. The recessed sides make it easy to grip. Our guest have all commented on the great design and style of the glasses. The glassware is very beautiful and we would recommend it to any one looking for good quality glassware.
January 28, 2014
So good I am looking to buy more and put away
I am really surprised at the poor reviews by some users. I have had 8 of the large glasses for a yr now. There are 4 adults in my home, and a 10 yr old. They are washed almost daily in dishwasher. Not a single one has been broken. My experience is that we like them so well, I plan to buy 8 more and keep in the pantry for the future. The size, and the shape are just right. The subtle recessed area fits into hand perfectly. Just right wt. I give 5 stars. Is it possible there could be that much variability in manufacturing leading to flaws??
December 22, 2013
Break Easily!
We received two sets of these glasses as a wedding gift. They seemed to hold up well at first then suddenly began breaking for no reason. We'd put them carefully in the dishawasher & all of them would come out broken. We'd gently put them away in the cabinet & come back to find several had broken. In less than a month, we only had 3 glasses left out of 32! I would not recommend purchasing these glasses.
December 11, 2013
Low cost, good quality
I got these glasses for my new apartment. With a new home, the low cost was definitely a help, but the other reviews really worried me. I opened the box and expected to get thin glasses that had no durability but the bottom is heavy and weighted and the rest of the glass is just the right thickness. Sure, all glasses break eventually, but these were a perfect buy amidst the expenses of a new home, and they've lasted me at least a month or two now.
August 14, 2013
Great Glasses
We got these at a wedding shower over a year ago and we have had no issues with them. The only one that broke was because of our dog and we have had no issues with any other glasses. We do a combination of hand washing and using our dish washer and have had no issues with them! We love them!
August 12, 2013
Awful
The glasses look great, but break for no apparent reason. Each time we ran them through the dishwasher, they came out broken. One by one. Gotta love customer service at BB&B though, as they replaced them for us. Let's see if this new batch does the same.
August 10, 2013
Related Searches:
Similar Products: