"Libbey Selene 10-Piece Punch Bowl Set" Is Not Available for Sale Online.
We have provided the content below as informational. Please view additional items Customers also viewed.
Related Searches:
Similar Products: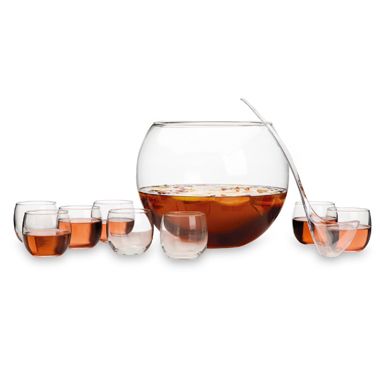 Libbey Selene 10-Piece Punch Bowl Set
Customers Also Viewed
Frequently Bought With
This shapely punch bowl set will be the center of attention at your next celebration. Glass set has a simple beauty that you'll want to display all the time. Hand wash. Set includes 13 1/2-quart punch bowl, eight 11-ounce punch cups and ladle.
SKU # 14837299
Libbey Selene 10-Piece Punch Bowl Set
8
8
Punch Bowl is too delicate
It broke while I was cleaning it. Luckily I read the reviews before attempting to clean it and wore gloves just in case. Sure enough. Don' buy it. It's too dangerous.
January 12, 2012
Highly Recommended
The instructions on the product tell you to lift from the bottom. I have used the bowl about 5 times and LOVE it! Looks great too! I laughed when I saw the "lifting instructions", but since reading the comments, I'm so glad I followed them! Buy it and lift properly!
January 5, 2012
Dangerous!!!
This punch bowl is extremely awkward to wash and while doing so broke in my hands and cut the tendon in my finger prompting costly surgery to repair! I would NOT recommend this product!!!!!!!! I am just lucky this happened AFTER my wedding!
August 15, 2011
Love it
I love it! I used it for my step daughter birthday party and it worked out perfect! There are tons of warnings on the bowl itself about about not holding the edge of the bowel due to the risk of it breaking. It's perfect if handled appropriately!
August 1, 2011
So Dangerous!
I had the exact same experience. I received this item as a wedding present. The very first time i tried to rinse it out to use it, a huge hunk of the glass broke off in the palm of my hand. I was being really careful, too. I was not hurt, luckily. DO NOT BUY. ZERO stars!!! Bed bath and beyond was really nice when I returned it.
July 29, 2011
Shattered during first use
This is so dangerous. You can't wash it without breaking it. I used it for a baby shower so had to wash it. You can't palm this thing so there is no way to turn it upside down without holding the side. I have a serious cut through my palm tonight and I'm shopping for a heavy duty punch bowl. Don't buy it.
March 8, 2011
This punch bowl is dangerous!
I bought this punch bowl for my sister as a gift. The punch bowl looks great and very modern, BUT it is SERIOUSLY FLAWED. My sister hand washed the punch bowl and set it down on a towel to air dry. When the bowl touched the towel, it shattered into a million pieces. Thank God no one was hurt! This punch bowl is dangerous! I would have given it zero stars if that were possible!
December 2, 2010
fragile beauty
This set looks great - very elegant. But the first time I used it for a party it broke! It comes with a warning to only lift by the bottom of the bowl which is tough to do while you're hand-washing it. As I tried to tip the bowl to empty soapy water down the drain, The whole side broke off in my hand (causing some nasty cuts too!) If you purchase this, be very careful and definitely don't let guests or children attempt to help with the clean-up!!
October 31, 2010