Dailyware™ 9-Inch Trifle Bowl
Can also be used as a fruit bowl or display piece
Glassware is dishwasher safe
Imported
SKU # 16200204
Dailyware™ 9-Inch Trifle Bowl
7
8
Broken Dish
I received this as a wedding gift (which I registered and was looking forward to receiving) a month ago. During my first use, the dish cracked all along the bottom. I am SO disappointed!! If I still had the box/receipt, I would bring it back to the store. I would suggest purchasing a different brand. :(
June 14, 2014
Great Trifle Bowl
This bowl if certainly worth the money. The bowl looks great. It washes well too! I would highly recommend this product!
April 2, 2014
Broke immediately
I purchased this, and hand washed it as soon as I got it home, because I intended to use it right away. As soon as I put it in the dish drainer, the bowl cracked where it connects to the stem. I needed to use it right away, so I exchanged it for a new one the same day. When I hand washed this new one, I heard the now familiar "TING" when this one cracked in the same place. This trifle bowl says hand washing is recommended. Warm soapy water should have been ok, but somehow I cracked two in the same day. It seems that the glass is very temperature sensitive, probably due to the change in thickness of the glass. Upon further inspection, I also noticed bubbles in the glass. I will have to return this one, and I will try the Anchor-Hocking trifle bowl instead, as it is dishwasher safe, so I don't expect to have the same problem. I ended up putting my dessert in a plain glass bowl instead. I'm pretty good at hand washing dishes, and I have never had this problem with anything before. I'm disappointed with Libby on this item. Perhaps it was a bad batch, but I'm disappointed nonetheless.
February 3, 2014
The perfect trifle bowl!
I've been shopping for a trifle bowl for several weeks and finally found the right one.. excellent price, nice style and quality, not too heavy, and just the right size. This one holds exactly 16 cups to the rim, which is ideal for most recipes. Very happy with my purchase!
October 27, 2012
Trifle bowl
Only thing that could have made this better would be a plastic fitted cover. Had to cover my trifle with glad wrap and that doesn't really give much protection when you're traveling 3 hours to a gathering.
January 4, 2012
Just What I Was Looking For
I purchased two of these trifle bowls - one for me and one for my neighbor. While I haven't used it yet, I know it will come in handy for many uses. It's solid, yet pretty, and I can't wait to fill it up and serve out of it!
June 8, 2011
Shower gift. I love it. Use it everyday as a fruit bowl and trifle bowl for guests
April 17, 2011
Related Searches:
Similar Products: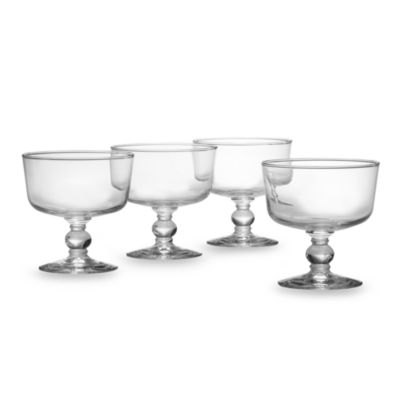 Dailyware™ 4 1/4-Inch Trifle Bowls (Set of 4)
Price:
$14.99
Brand:
Dailyware
Categories:
Holiday & Gifts > Thanksgiving > Thanksgiving Dining
The classic design of this trifle bowl set will make it a staple at every meal and event.
Dailyware™ Glass Six-in-One 12-Inch Server
Price:
$19.99
Brand:
Dailyware
Categories:
Holiday & Gifts > Thanksgiving > Thanksgiving Dining
This ultra useful Six-in-one Server is a cake dome and lid, punch bowl, covered crudite with dip server, hors d'oeuvres plate with dip server, salad bowl with vegetables underneath, and simple pie or cake plate.
Also check out:
$6.99

Beyond Value

Exclusively Ours

(6 Reviews)
$9.99 - $49.99

Exclusively Ours

(45 Reviews)