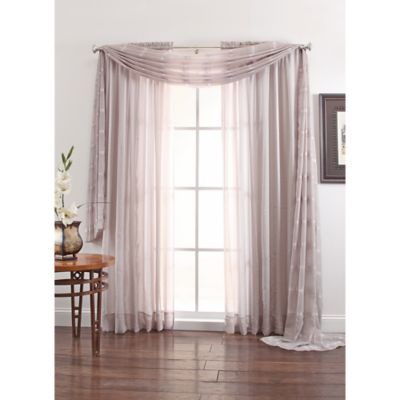 Linen Sheer Pocket Panel
100% polyester.
Machine wash.
Imported.
Linen Sheer Pocket Panel
8
9
Linen Panels beautiful
Very happy with the panels and the customer service we had to order them. It couldn't have been better.
September 12, 2014
Subtle stripes
These sheers are absolutely gorgeous...well worth a few extra dollars!
September 12, 2014
The panels are beautiful...and the store clerks were so helpful.
September 10, 2014
Linen Sheer
Perfect for me as I wanted a little more than a sheer. These give great texture for a great look.
July 31, 2014
Great Value
The curtains are made from a nice fabric. They hang very nicely. Great price for the beauty of the product.
May 12, 2014
Lovely
These sheers are beautiful. They strike just the right balance between letting in light but providing privacy and the texture adds a little bit of interest to the tried and true sheer.
March 3, 2014
Ouch!!
Paid $20 each, but so pretty in store I thought it would be worth it - WRONG! They do not hang well (hang "crooked", & hard to make look even when multiple panels on same rod), & about an inch short!!! Definitely would NOT buy again!
July 22, 2013
Beware!
I had purchased several of these panels for a previous rental home. I bought a house a few months ago and was hoping that BB&B still had them for sale. I was thrilled to see that they did and ordered some more for the remaining windows. I measured for the rod exactly as the other sheers only to find that these were longer than the originals and what the package states. I remember the original panels being produced in Turkey; these are from China. Apparently the quality control is not the same in both countries. Be sure to add an extra 1-1/2 inches to your measurement or they will be dragging on the floor like mine did. Instead of moving the curtain rod up, I turned the bottom hem in half and stitched them.
December 17, 2012
Related Searches:
Similar Products:
Also check out:
$6.99 - $29.99

Exclusively Ours

(32 Reviews)

$15.99 - $39.99

Exclusively Ours

(87 Reviews)

$39.99

Exclusively Ours

(13 Reviews)

$39.99

Exclusively Ours

(3 Reviews)

$24.99 - $49.99
(2 Reviews)

$24.99 - $49.99
(1 Review)

$29.99 - $34.99
(5 Reviews)

$22.99 - $29.99
(14 Reviews)

$24.99 - $49.99
(40 Reviews)

$37.99 - $94.99
(67 Reviews)

$44.99 - $69.99
(42 Reviews)

$34.99 - $59.99

Exclusively Ours

(33 Reviews)

$29.99 - $49.99
(2 Reviews)