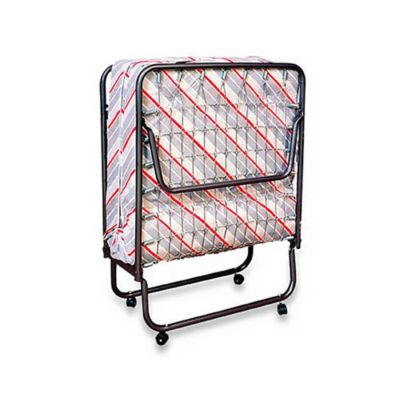 Linon Home Folding Bed
Constructed of polyester foam, polyester/cotton ticking with a steel frame.
Measures 31" W x 75" L with a 5" depth when open.
When folded, 31 1/2" W x 13 1/2" D x 34" H.
Adheres to all Firefoam regulations.
Comes fully assembled.
Made in Italy.
SKU # 15021209
Linon Home Folding Bed
15
18
Great buy
Easy to assemble, comfortable to sleep on, and reasonably priced.
August 11, 2014
Disappointed-Folding bed
This bed had super fast delivery. Unfortunately it isn't what we ordered. The picture shows metal springs in the frame for the mattress, it came with wood slats. Talk about false advertising. With the mattress being only 5 inches thick we thought the springs would be more comfortable. We will never know now, we are returning the bed.
August 9, 2014
A pretty good buy
The package arrived on time but the box it came in smelled horrible. It smelled like the zoo in my opinion. Like everyone said it doesn't come with an instructions manual but there are picture instructions on the bottom of the box which was actually helpful. Once I figured out what goes where it was pretty easy to put together. The mattress is decent, not a lot of cushion or padding but still comfortable and it doesn't have the smell of the box thank god. This piece is good for small to average height for a woman. Not good for tall people. I'm 5'5 and it wouldn't be comfortable if I was 2-3 inches taller. Overall I'm satisfied with the final product. It stores nicely and doesn't take up space . I chose this over an airbed because I didn't want to deal with the hassle of blowing up the bed and deflating it or worrying about if it will stay inflated through the night etc.
August 4, 2014
Linon Home Folding Bed
Was disappointed. My husband has a bad back and he said it was very uncomfortable even with the foam mattress pad. The bed was too low to the floor and made it difficult getting out of it and it was very squeaky when you moved.
August 4, 2014
Terrible
The wooden slats that support the mattress kept falling out making the bed unusable! I returned this product and for the same price bought a brand new twin size bed which was bigger in mattress size and comfort .
July 28, 2014
Perfect for my needs
My husband recently suffered a stroke and is now home in a hospital bed. I needed a bed to place next to his because my presence soothes him. I ordered this bed at the store, received free shipping and 20% discount. Had read prior comments and checked the product carefully after receiving it. There was no rust or any other problem. Mattress is apparently water repellent although that was not an issue for me but also sleeps like sleeping on a pillow. I love it. Thanks Bed, Bath & Beyond.
April 29, 2014
Perfect Extra Bed!
This is the perfect extra bed that fits great in a closet. I was concerned about the comfort but my sister (age 50+) raved about it. It doesn't come with an instruction sheet but there's a picture on the box to figure out parts. I'm ashamed to say it took me a minute. Basically, pull out the middle two legs to put the wheels where the holes are already drilled. These will be your rollers (indicated in pic). The two metal bars are braces to hold those two legs securely (not shown in above picture). The four round plastic pieces are for the other two legs as buffers for the metal legs against the floor (also not shown in pictures). I read reviews about the plastic lock on top being difficult to open/close and it's true but can be done. We found that it's easier if you lock it on the 2nd or 3rd space. Hope this help you decide. I'd purchase it again without question.
January 27, 2014
I received my bed today 01-21-2014,it was very easy to set up,I do love the attachment on the end of the bed-that you use to attach the two end of the bed together,No problems at all,
January 21, 2014
Related Searches:
Similar Products:
Also check out:
Twin $149.99 - Queen $249.99
(55 Reviews)

Twin $199.99 - Queen $299.99
(24 Reviews)

Twin $124.99 - Queen $174.99

$19.99 Each

Beyond Value

Exclusively Ours

(27 Reviews)

$14.99 - $29.99




$9.99 - $19.99

Clearance!

(16 Reviews)

Twin $19.99 - Cal King $34.99
(51 Reviews)
$9.99 Each

Beyond Value

Exclusively Ours

(28 Reviews)

$34.99 - $59.99
(75 Reviews)

$8.99 - $11.99
(6 Reviews)

$19.99 - $59.99
(59 Reviews)

Twin $79.99 - Cal King $119.99
(74 Reviews)

$19.99

Exclusively Ours

(30 Reviews)

$119.99 - $179.99

Exclusively Ours

(9 Reviews)

$4.99 - $10.99
(2 Reviews)