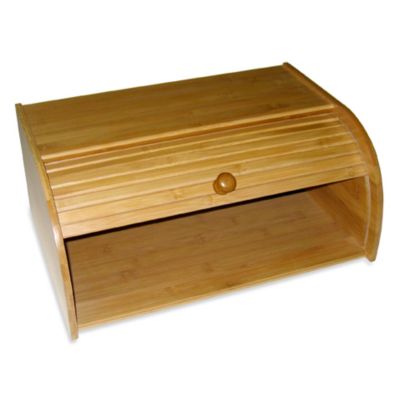 Lipper International Bamboo Roll Top Bread Box
Holds two large loaves of bread
Measures 15 3/4" W x 10 3/4" D x 6 3/4" H
SKU # 17757199
Lipper International Bamboo Roll Top Bread Box
27
28
It keeps bread fresher.
This is great! I grow up using one. It keeps my bread fresher longer.
September 14, 2014
Good replacement for a dearly loved bread box!
I purchased my original bread box from the Philippines many years ago. This is a close match in style but the original one was a darker reddish-brown. However, this one gets the job done with its familiar functionality.
September 13, 2014
Very nice!
We purchased this breadbox to go inside a cupboard. It is perfect fit without taking up too much space. Easily holds 2 loves of bread and a roll or two. If you need something to hold more than that you may want to look for something larger. Perfect for our needs. Well made roll top runs smoothly.
September 12, 2014
Beautiful Design
BB&B did a really fast delivery of this out-of-stock item. It was worth the few days wait. It is beautiful! I love the roll top, very classy.
August 11, 2014
I went into my local Bed, Bath and Beyond store/ Bread Box was not in stock. A nice young man immediately ordered the product online for me and I had my bread box within a week. AWESOME Service! Product meets my needs holds one loaf of bread might be nice if even a 1/2 in long on each side but over all I am very pleased
July 30, 2014
I need a breadbox
I had this sent to me in the mail, and it was cracked. I would rather have one that is more sturdy.
June 23, 2014
Too Small
This is a cute bead box, however its too small. It only holds 1 loft of bread. It does not hold 2 lofts of bread. :( Please make a "larger bread box to at least hold 2 lofts of bread". Thank you.
June 2, 2014
Bamboo Bread Box
Product was as expected....delivered to my door quicker than anticipated....I recommend product and shipper
January 14, 2014
Related Searches:
Similar Products:
Also check out:
$52.99 - $54.99
(6 Reviews)

$14.99 - $19.99
(6 Reviews)
$9.99 - $54.99

Exclusively Ours

(125 Reviews)

$9.99

Exclusively Ours

(14 Reviews)

$9.99

Exclusively Ours

(5 Reviews)

$39.99

$50 Bonus Gift card with $300 Calphalon Purchase

(31 Reviews)

$14.99

Exclusively Ours

(32 Reviews)

$6.99

Exclusively Ours

(6 Reviews)