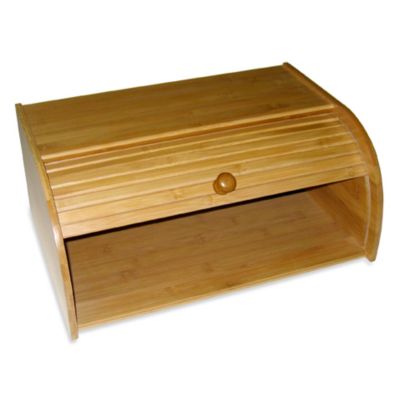 Lipper International Bamboo Roll Top Bread Box
Holds two large loaves of bread
Measures 15 3/4" W x 10 3/4" D x 6 3/4" H
SKU # 17757199
Lipper International Bamboo Roll Top Bread Box
24
25
Beautiful Design
BB&B did a really fast delivery of this out-of-stock item. It was worth the few days wait. It is beautiful! I love the roll top, very classy.
August 11, 2014
I went into my local Bed, Bath and Beyond store/ Bread Box was not in stock. A nice young man immediately ordered the product online for me and I had my bread box within a week. AWESOME Service! Product meets my needs holds one loaf of bread might be nice if even a 1/2 in long on each side but over all I am very pleased
July 30, 2014
I need a breadbox
I had this sent to me in the mail, and it was cracked. I would rather have one that is more sturdy.
June 23, 2014
Too Small
This is a cute bead box, however its too small. It only holds 1 loft of bread. It does not hold 2 lofts of bread. :( Please make a "larger bread box to at least hold 2 lofts of bread". Thank you.
June 2, 2014
Bamboo Bread Box
Product was as expected....delivered to my door quicker than anticipated....I recommend product and shipper
January 14, 2014
Box arrived broken - Returned to store!
I was excited to get this box, but disappointed when it arrived. The box was not even completely assembled. One side was separated and the screw holding the knob in the door was stripped. The knob broke off immediately. Fortunately, I was able to return it to our local store and exchange it for the Polder Chrome Bread Box, which is perfect!
January 10, 2014
Junk made in China
This product does not even deserve 1 star. It was broke when I opened it. The small dowel was out of place and showing that holds the roll top in place and the wood was split down the entire side. Very typical of merchandise made in China as this is. I didnt even take the plastic off and seen the damage. I returned it to Bed and Bath and then found a very nice box on the Internet made in the USA by a furniture company which I ordered and I am very pleased with. It was quite a bit more expensive but worth every penny. You get what you pay for.
December 4, 2013
Junk
The box itself is really lovely. BUT... I think ours was built on a Friday afternoon at the plant. NOTHING was held together. Glue, screws or otherwise. The style was perfect, but the craftmanship was horrible. We took it back to our local BBB store. Now here's a huge positive.... THEY were awesome. And I truely felt their concerns. It's such a shame, because the breadbox style was perfect :(
November 15, 2013
Related Searches:
Similar Products:
Also check out:
$52.99 - $54.99
(3 Reviews)

$14.99 - $19.99
(6 Reviews)
$49.99

Excluded from Pack and Hold

(6 Reviews)

$9.99 - $54.99

Exclusively Ours

(119 Reviews)

$9.99

Exclusively Ours

(14 Reviews)

$9.99

Exclusively Ours

(4 Reviews)

$9.99

Free Standard Shipping

(4 Reviews)

$49.99

$50 Bonus Gift card with $300 Calphalon Purchase

(36 Reviews)

$9.99 - $14.99
(7 Reviews)