"Little Granddaughter Photo Frame" is not available for sale online.
This item may be discontinued or not carried in your nearest store. Please call your local store to check in-store availability before heading there. For informational purposes, the product details and customer reviews are provided.
Related Searches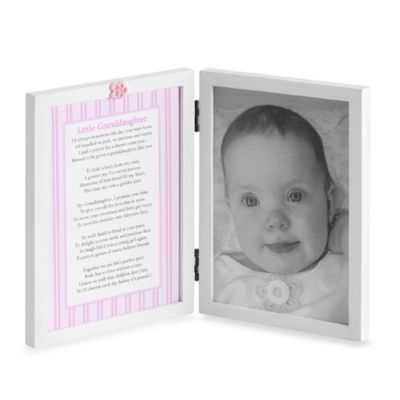 Little Granddaughter Photo Frame
I said a prayer for a dream come true, Blessed to be given a granddaughter like you.
To hold a baby from my own, A greater joy I've never known.
Memories of babyhood fill my heart, This time my role a gentler part.
My Granddaughter, I promise you time, To give you all the love that is mine.
To savor your sweetness and little girl ways, To turn the ordinary into fairytale days.
To walk hand in hand at your pace, To delight in your smile and precious face.
To laugh like I was a young girl again, To join in games of make-believe friends.
Together we are life's perfect pair, Both free to love without a care.
I know so well that children don't last, We'll cherish each day before it's passed.
®Teri Harrison.
SKU # 15904925
Related Searches