Little Pim® Fun with Languages 3-Pack DVD in French Volume 1
Research shows that young children who learn a second language have greater cognitive and verbal skills
Children can learn multiple languages with ease with these fun and informative DVDs. Each 35-minute DVD features Little Pim®, a lovable, animated panda who is also the teacher, and real kids doing everyday activities
SKU # 18294664
Little Pim® Fun with Languages 3-Pack DVD in French Volume 1
2
2
Great Buy
As a native French speaker living in New York, it's been difficult to get my children to use any French words despite my best efforts. Little Pim has really helped in getting them involved with the foreign language, because they enjoy the fun animation and the other children on the DVDs!
November 15, 2011
Best Purchase Ever
I bought Little Pim for my toddler as an educational alternative to normal TV shows, and so far she's really gotten a lot out of it. She enjoys watching the short episodes, and I often hear her repeating French words from the other room. I also love that I have the option of letting her watch the videos alone if I need a short break, or of watching and participating with her.
November 14, 2011
Related Searches:
Similar Products: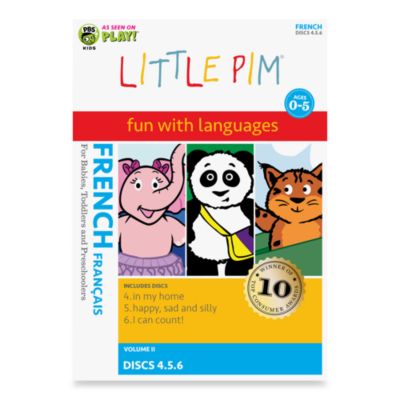 Little Pim® Fun with Languages 3-Pack DVD in French Volume 2
Price:
$4.99
Brand:
Little Pim
Introduce your child to a new language with Little Pim®. This fun, award-winning series is designed to introduce the French language to babies, toddlers and preschoolers.