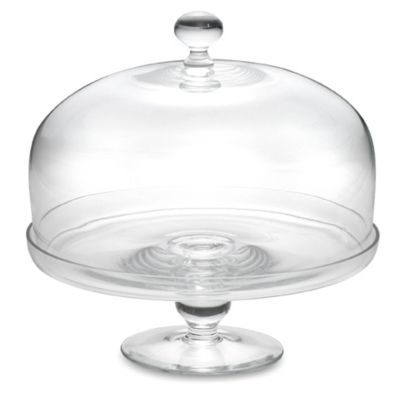 Dailyware™ Cake Dome
Measures 11.25" in diameter
SKU # 11203175
Beautiful and Sturdy
I love this cake plate, it is very durable and beautiful. Perfect for parties and a great way to display your cakes!
July 28, 2014
Very fragile
It looks nice but you can't use it. Like others, it broke the first time we used it when I was washing it.
September 29, 2013
Very delicate piece, but I love it!
As many other reviews have already said, this cake dome is very delicate as it has very thin glass. However, I have used this several times already since receiving as a wedding gift, and have had no issues. I do get nervous when I wash it in the sink; however, I am very cautious with the pieces. My husband and I are very gentle when taking the dome part off with the knob handle as well...so I have no complaints yet. It's a beautiful piece, and the lid part is not an issue either. I don't have cake serving utensils (yet), and I still have no issues cutting and serving pieces of cake out of this cake dome.
February 19, 2013
Disappointed
Received this as a bridal shower gift that I had registered for. The first time I used it was April 2011. Used it once! Used it for Easter to display a cake upon picking up the top the next day the handle broke off. Very disappointed about it.
May 14, 2012
Disappointed
This product cracked and broke while I was washing it before I even got a chance to use it. It was a total waste of money. Don't buy it.
July 8, 2011
Very Fragile
I placed this item on my registry and when I opened it, it had already cracked. I exchanged it and got another one like it. I used it only twice before the replacement one also cracked. It is extremely fragile. I will be replacing with another brand.
June 14, 2011
Beautiful!
I agree that the lip on the cake plate is annoying, but that's part of what holds the lid on. I think this piece is still beautiful and can't wait to set it up with my apothecary jars on my kitchen counter. As long as you have a cake or pie server you should be able to get the piece of cake out without a problem.
December 28, 2010
I love this
I intentionally bought this cake dish because of the lip on it. When you go through the trouble of making a cake pretty enough to be put into a cake dome you want it to stay pretty. The lip around the edge keeps the top of the dome from hitting your cake when you move it around. My previous cake dome did not have it, and I got rid of it for this one. It all depends on your cake needs I guess, but I have never really had trouble getting cake out. I've owned this cake dome for almost 5 years nows, and I have used it for all of my family members birthday cakes for parties.
December 28, 2010
Related Searches:
Similar Products:
Also check out:
$24.99 - $29.99
(5 Reviews)

$34.99

Exclusively Ours

(8 Reviews)

$19.99 - $39.99
(1 Review)
$39.99

Exclusively Ours

(26 Reviews)

$69.99 - $89.99
(12 Reviews)

Twin $495.99 - King $749.99
(1 Review)

$34.99

Exclusively Ours

(4 Reviews)

$6.99

Beyond Value

Exclusively Ours

(2 Reviews)