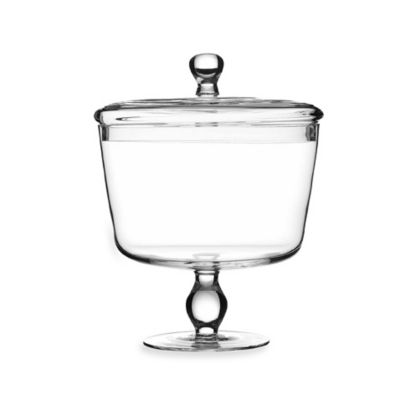 Luigi Bormioli Michelangelo Trifle Bowl with Lid
Measures 11 1/2" H x 8 1/2" in diameter and holds 4 1/4-quarts.
Dishwasher safe.
SKU # 15885629
Luigi Bormioli Michelangelo Trifle Bowl with Lid
4
5
Too Delicate
As the only covered trifle bowl sold by Bed Bath and Beyond, it's a shame that they sell such a delicate bowl that can't hold up to shipping. This product isn't in any local stores store and has not made it to my house intact, despite two shipping attempts. There are blemishes in the glass, such as air bubbles and scuff marks.
January 5, 2014
Lid doesn't fit
I received this trifle bowl as a wedding gift. The lid did not fit well, so I exchanged the bowl for a different one, thinking I had just received a defective one. When I received the new one, the lid once again did not fit well. I guess I will be using it without the lid. The bowl itself works great.
August 8, 2013
Beautiful trifle bowl
I purchased this bowl for my daughter and she is very happy with it. We have been trying to find a trifle bowl with a lid for the last few years and this bowl is just what she wanted.
December 28, 2011
Beautiful piece of fragile glass
I was super excited to receive this as a gift. It arrived as beautiful as it appears in the picture. My only two complaints1)glass is thin and fragile; 2) the bowl does not sit flat on the surface since its made with a ball at the bottom of the glass. Other than that, its a beautiful piece and the bowl is just perfect size to make trifle dishes.
December 28, 2011
Related Searches:
Similar Products:
Also check out:
$6.99

Beyond Value

Exclusively Ours

(6 Reviews)
$39.99 Each
(194 Reviews)

$10.99

Free Standard Shipping

(95 Reviews)

$4.49 - $8.99
(4 Reviews)

$7.99

$50 Bonus Gift card with $300 Calphalon Purchase

(3 Reviews)

$29.99

Exclusively Ours

(1 Review)