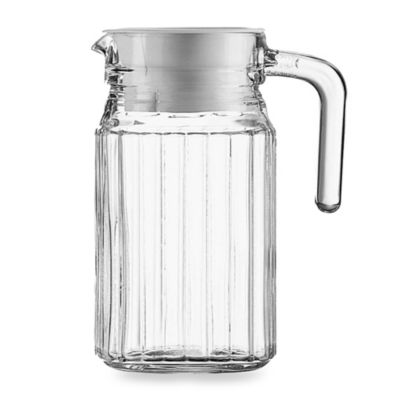 Luminarc® Quadro 16 3/4 oz. Pitcher
1 piece set
16.75 oz. capacity
Dishwasher safe
SKU # 17122100
Luminarc® Quadro 16 3/4 oz. Pitcher
10
13
Love this small glass pitcher!
I love to have iced coffee in the morning. This little, glass pitcher fits under my Kerig and then goes into the frig for the morning. Just enough to to fit in my cup to take to work!
July 31, 2014
Great small pitcher
Great size to fit in the small spaces in the fridge. Perfect for ice tea!
June 2, 2014
I love the feel, shape, and design overall. I was a little disappointed that the glass isn't a little thicker, although it is more than adequate. The plastic lid is a little more flimsy than I would have preferred, but as long as it isn't abused it should last for a really long time...certainly long enough to make this a really good deal! I am always looking for something to put a little bit of this or that liquid leftovers in, be it milk, soup, sauces, marinades, etc., so I'm sure I'll be ordering more of these! And yes, I would highly recommend this to my friends.
April 9, 2014
perfect size
love them these are the perfect size when you need to store smaller amounts of juice or sauces or anything else that needs to be poured. Also great for sugar makes it very easy to fill up sugar bowls.
October 4, 2012
perfect for little hands
I had bought the Quadro 57.25-Ounce Glass Pitcher with Lid to store my fresh squeezed juice but was also looking for a smaller version. I like to keep water/juice etc that my kids can get from the fridge themselves. This works great for my 10 and 4 year old...i bought two and fill one with water and the other w/lemonade or juice....no spill!
August 10, 2012
Just love it!
I have the larger pitcher and also wanted a smaller one. My hand fits inside of it for cleaning, and I like that it has a stopper.
July 18, 2012
You can fill out with boiled water
It wouldn`t brake the glass after you fill out with boiled water! Amazing !!! I could make any herb tea in it.Fill out with any herbs and citruses and add boiled water.Very light weighted glass and super strong .Pleasant to hold ,beautifully looking any liquid in it .Absolute love it .I ordered second after recieved first :)
April 18, 2012
Fun Mugs
They are good for cold drinks ... ie tea, Margaritas, Michelladas ... whatever suits your fancy.
April 18, 2012
Related Searches:
Similar Products:
Also check out:
$9.99

Beyond Value

(11 Reviews)

$7.99 - $8.99
(7 Reviews)
$15.99

Exclusively Ours

(4 Reviews)

$9.99

$4.99

Clearance!

(1 Review)

$24.99

Baby Registry Favorite

(36 Reviews)

Twin $49.99 - King $69.99
(2 Reviews)

$9.99 - $54.99

Exclusively Ours

(115 Reviews)

$9.99

$4.99

Clearance!

(3 Reviews)

$14.99

Beyond Value

(8 Reviews)

$9.99

Beyond Value

(11 Reviews)
$79.99

Clearance!

$50 Bonus Gift card with $300 Anolon Purchase

$75 Bonus Gift card with $400 Anolon Purchase

Price reflects 20% instant rebate

(2 Reviews)