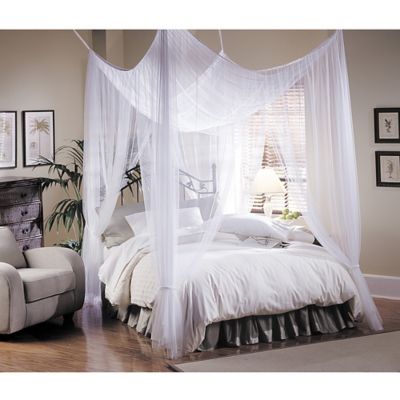 Majesty White Large Bed Canopy
Fits from full to king-size bed.
To create an unexpected romantic look use canopy to surround a sitting area or outside area.
Four satin-like braided cords are included to tie back canopy.
Also includes four anchors and four screw hooks for hanging.
Tools required.
Measures 76" W x 84" L x 96" H.
100% polyester.
Machine wash.
Made in USA.
SKU # 12044852
Majesty White Large Bed Canopy
9
9
Bed Canopy
We used this canopy without having a headboard or footboard. Very easy to install and very pretty.
September 12, 2014
canopy netting
This does the trick for making an instant canopy. But it is what it is, synthetic netting. I laid mine over the framing of my canopy. With a few tacks here and there, made it fit. There's a lot of length to the panels and it can be a bit confusing.
August 11, 2014
Don't buy this!
This canopy was not only of poor quality, but it was way to big for my queen size bed. I thought that it was going to be draped around the bed, but instead, it is designed to put holes in your walls and ceiling. Defnitely not what I expected. I plan to return it, but haven't had a chance to get it back in the mail at this time.
April 24, 2013
Excellent
This is a beautiful addition to any bed. I feel like a princess when I sleep in my bed now. The only thing I would suggest is getting extra hooks to hold up the head and foot of the canopy in the middle as it sags too much without the extra hook. I love this item and would recommend it to anyone.
July 6, 2012
Fit For A Queen
I really love my canopy for my bed. I finally found one priced right.at Bed, Bath and Beyond and purchased it. It is the crown my bed was lacking.
June 30, 2012
AWESOME PURCHASE EVER!
My husband&I bought this2go in our new apartment&we were amazed at how awesome it looked our Pastor&his Wife came over&saw it&loved it as much they wanted2buy1that day they were so excited&loved it so much!Our ceilings R low as some1else mentioned but we just tied them in a fancy way&made them look that much more becoming!
October 19, 2011
Sheer Canopy
I LOVE this canopy. It looks great and can be adjusted to fit a queen nicely. It is a little small for the king as I would like to have more loose material on the top. It makes my room look and feel like a relaxing retreat. The only other downfall is when you have to untwist the canopy after washing. It is a very large pain but well worth it. I have allergies and breathe so much better now.
August 18, 2011
good for small bedroom
I have a small bedroom and yet I have a four poster bed and wanted a canopy over it. The sheer netting this canopy offers worked perfectly to suit my room. Because it is sheer and not opaque, it does not take away from the spacial feel. The room still feels open and roomy which I found very desirable. It is a bit frustrating to hang. And also I only have 8 foot ceiling so this canopy was very long. I had to trim off several inches to make it look right. Would work better on 9 foot ceilings. But it looks perfect in my room, I wouldn't go without it. It's also machine washable which is a big plus. It's very pretty and the netting is nice and soft so the other review listed rather confused me?? I'm wondering if perhaps they put a review on the wrong product.
January 28, 2011
Related Searches:
Similar Products: