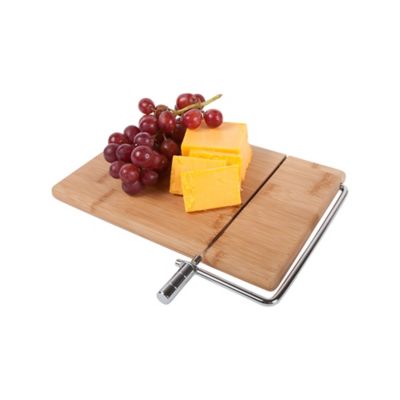 Core Bamboo™ Cheese Slicer
Core Bamboo™ Cheese Slicer
Measures 10.2" L x 8" W x .65" H
Hand wash
SKU # 13836248
Core Bamboo™ Cheese Slicer
16
16
Bamboo Cheese Slicer
If I could give this product negative stars I would. Broke the wire on two of these on the same day! Do not waste your money. The wire is very lose and wobbly and does not cut all the way through into the groove of the board. Piece of junk!
August 28, 2014
Great for Soap Cutting
I purchase this in a bind for cutting homemade soap. I would suggest before purchasing that you inspect the wire of the slicer to make sure that it's as straight as possible before choosing one. I looked at all 8 they had on the shelve and only 2 where straight. It paid off doing this because it cut through the soap like butter all the way to the bottom! It didn't hurt that I had a 20% off coupon too!
February 23, 2014
Bamboo Cheese Slicer
It is difficult to cut a neat slice. Wire does not extend to bottom of slot. Also product did not include replacement wire as box advertises. Also, Ttwo others in store did not include replacement wire.
January 2, 2014
Cheese Slicer
Completely useless. Poor material. Wire slicer bends and doesn't slice all the way through soft cheese! Because of flimsy wire, it doesn't even go down to the groove it's supposed to go into to complete slice. I completely wasted my money
June 19, 2013
great for me
To be fair with the other reviews, the real thing does not look anything like the picture. I bought it for only one purpose and since it did the job I give it five stars. It is the best thing to slice eggs for deviled eggs. I've tried really sharp knives and string and even cheese knives but it doesn't slice like this slicer. Plus it is fast and efficient.
May 24, 2013
Total Junk
DON'T WASTE YOUR MONEY ON THIS. The wires stretch or break. The board is rough and unattractive. And it is too puny to cut most cheese.
February 24, 2012
Flimsy Junk
I bought this as a gift and had to return it to the store. I would have been too embarrassed to have given it to anyone! The wire was loose and bent. It could not be tightened enough that it would have cut through anything. The board was very rough and porous, not polished like you would expect from a wooden cutting board. I would absolutely NOT recommend it!!
December 1, 2011
Piece of junk
Literally fell apart. I actually feel guilty that someone paid money to get this for me as a gift. I didn't have the receipt and couldn't return. Waste. Of. Money. DON'T BUY IT!
November 22, 2011
Related Searches:
Similar Products:
Also check out:
$1.49

Fragrance of the Month

(32 Reviews)

$24.99

Beyond Value

(21 Reviews)

$14.99

Exclusively Ours

(1 Review)

$14.99 Each

Beyond Value

(15 Reviews)

$14.99 Each

$9.99 Each

Clearance!

(3 Reviews)