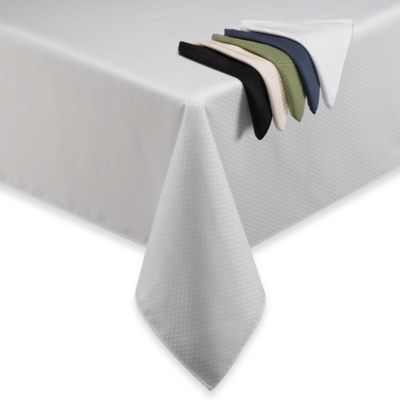 McKenna Microfiber Tablecloth
Spills and liquid bead up and won't leak through the cloth keeping your linens fresh-looking longer
100% polyester
Indoor use only
Machine wash, cold water
Tablecloth and napkins sold separately
Imported
McKenna Microfiber Tablecloths
Hi. I'm Kara from Bed Bath & Beyond, and I'm here today to talk to you about the McKenna Microfiber Tablecloth, Placemats, and Napkins. This elegant and understated pattern is the perfect match for any table setting, whether casual or formal. The microfiber construction means that spills bead up and do not leak through. It's machine-washable and wrinkle-free. It's available in a variety of colors and sizes, including wide widths. Coordinating napkins and placemats are available.
The mitered corners of the placemats add a decorative element to your table.
When my busy family sits down for dinner, you can be sure someone will spill something. That's why I love this tablecloth. Cleaning up a spill or mess has never been easier.
Watch what happens when I spill some red wine. Just take a damp cloth or a dry paper towel and your spill will be gone, and you're all ready for your next meal.
The McKenna microfiber tablecloth, placemat, and napkins are available online and at a Bed Bath & Beyond store near you.
McKenna Microfiber Tablecloth
10
13
McKenna Tablecloth Microfiber
used it for the 1st time today. Beautiful , wipe up easy ( spilled water did not soak in) ..Washed & dried...Like new.. love it
May 26, 2014
Took a while to arrive, but happy with purchase
This cloth looks great under table runners that I purchased. With 3 kids, it's great to have something stain resistant without sacrificing a great looking table for when company is over. This tablecloth really delivers. Took a really long time to arrive, though.
April 7, 2014
Beautiful look!
Tablecloth looks great! This was the only one I could find to fit my larger table., and it was perfect. Very nice texture.
April 5, 2014
Excellent product - I highly recommend.
Great product at an affordable price. I will be purchasing more in different colors.
January 2, 2014
Very nice quality for the price!
This tablecloth actually exceeded my expectations. It is good quality and the cost was great. I did get it on sale, but I was pleasantly surprised. I washed it right away and it held up nicely in the washer AND dryer. Was disappointed the folding creases were still very obvious, but I'm sure with a few more washes, they will disappear. I'm pleased with the purchase.
January 23, 2013
Great color, easy to clean
I love microfiber tablecloths, liquid just pools up on the fabric and you can soak it up with a (paper) towel! This is a beautiful purple color. One caveat about this cloth - the little barely raised "nubs" as decoration over the cloth catch easily to jagged fingernails or rough items. Be gentle to it!
October 8, 2012
Fantastic!
I used these table clothes to make custom slip covers for some cushions in our travel trailer. They worked out beautifully for my project. They held up to the wear and tear of 4 large dogs. Great products.
July 7, 2012
Fantastic item
I purchased the table cloths so I could make custom slipcovers for our travel trailer's bench cushions. We have 4 large dogs that travel with us so the cushions needed an additional covering. They are fantastic. They repel moisture and wash beautifully. I would not hesitate to buy this product for a custom project or their intended purpose.
July 7, 2012
Related Searches:
Similar Products: