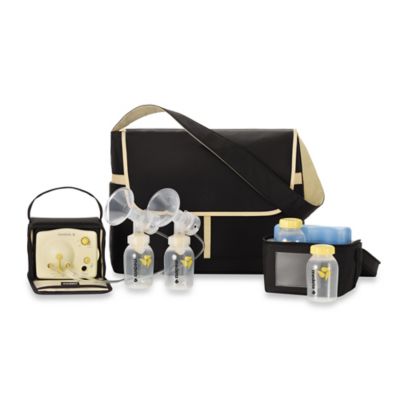 Medela® Pump in Style® Advanced Breastpump with Metro Bag
Stylish Metro bag is very roomy and filled with inner compartments for all of mom's accessory and personal needs
Remove internal parts - including a work surface, cooler carrier pump and motor - and use the fashionable Metro bag long after you're finished pumping
Breastpump power is supplied by 9-volt AC adapter, battery pack (8-AA batteries not included) or 9-volt Vehicle Lighter Adapter (sold separately)
Also includes 4 collection containers with lids, 2 PersonalFit™ breastshields, 2 valves, 4 membranes and Breastfeeding Information Guide
All parts that come into contact with breastmilk are BPA/DEHP Free
Measures 11 3/4" H x 16 1/2" W x 8" D
UL listed
1-year manufacturer's warranty
Model 57036
SKU # 15115017
Medela® Pump in Style® Advanced Breastpump with Metro Bag
6
6
Excellent pump for regular users
I have been using this pump for the past one month and have no complaints whatsoever. The pump is great and the bag fits all the required accessories comfortably. I got this with the 20% off promotion plus $25 bonus gift card with purchase(haven't received it yet though) so I paid a good price for it. The membranes are very small in size need to be washed carefully. I already lost a couple and had to get replacements. It is also convinent for travel. Would definitely recommend it.
January 31, 2014
Better Than Ameda!
I was given an Ameda Purely Yours pump when a friend was done using it. I got frustrated because it (Ameda Pump) was inconsistent with its suction. I would have to mess with it constantly to get it to suction properly. I finally gave in and bought the Medela Pump In Style Advanced. It is easy to use, and I am able to get more out of my pumping sessions. My only concern is that you have to make sure to air out the tubes to prevent mold from forming. There are sanitizing steam pouches you can buy to sanitize all the parts of the pump, which makes me feel better. I would definitely recommend this pump!
July 21, 2014
Best Breast Pump!!
I did tons of research before deciding on which pump to put on my registry. This pump saved my life when I was experiencing major breast pain when my newborn wasn't latching properly due to a tongue tie. What sets it apart is that the motor is not sewn into the bag, which makes it more convenient when pumping from anywhere (you are not tied to a big bulky bag). You can use batteries or plug it into your car as well. I really haven't used the bag yet as I have not gone back to work, but I would probably use my own back pack instead. Again, a major selling point that you can put the motor in any bag you want. You won't be disappointed with this one!!! I just love it!!
January 24, 2014
Just save yourself the hassle and buy a medela.
I wasted so much money on breast pumps. My Ameda pump died in 2 months. The first years pump was awful. And I bought an Avent hand pump that SUCKED and a laniosh hand pump that was great. The pump really gets milk out faster than most others. I like the 2 phase expression and see a difference with it. The milk bottles fit perfectly in the tote and stay cool during the day. It was totally worth it!
June 30, 2013
best pump on earth
ive been using it for 13 months now and i pump every 3 hours during the day. it has great suction motor is very strong, i mostly use it as a single pump now that i dont get as engorged. i recently found out i can use it as a portable pump also,mine came from my ins. company and wasnt in a box and didnt have the battery, i would gladly pay for this pump it has saved my life:)
June 9, 2011
LOVE!
this pump has been my very best friend for the past year of my sons life. i exclusively pumped for 11 months and would not have been able to do it without this pump! it is worth it's weight in gold!
February 3, 2010
Related Searches:
Similar Products:
Also check out:
$399.99

$50 Bonus Gift card with purchase

Baby Registry Favorite

(19 Reviews)

$29.99

$5 Bonus Gift Card with Purchase of $25 or more

(1 Review)

$18.99

$5 Bonus Gift Card with Purchase of $25 or more

(10 Reviews)

$9.99

$5 Bonus Gift Card with Purchase of $25 or more

$299.99

$25 Bonus Gift card with purchase

Baby Registry Favorite

(12 Reviews)

$299.99

$25 Bonus Gift card with purchase

Baby Registry Favorite

(8 Reviews)

$29.99

$5 Bonus Gift Card with Purchase of $25 or more

(1 Review)

$56.99

$5 Bonus Gift Card with Purchase of $25 or more

Stroller $459.99

Stroller $413.99

Clearance!

(4 Reviews)
Monitor $249.99
(64 Reviews)

$8.99 - $11.99
(9 Reviews)

$37.99 - $94.99
(67 Reviews)

$34.99 Each

$5 Bonus Gift Card with Purchase of $25 or more

(23 Reviews)
$39.99 - $59.99
(101 Reviews)

Twin $99.99 - King $179.99
(1 Review)

$129.99 - $169.99
(2 Reviews)

$49.99 - $79.99
(1 Review)