Mercer® Genesis Six-Piece Knife Set with Glass Block
Their contoured Santoprene handles provide a soft sure grip and all of the knives have a taper-ground razor-sharp edge.
Plus, its stainless, tempered glass block is sleek and stylish for a fresh appearance on your countertop.
Set includes one parer, one slicer, one bread knife, one santoku knife and one boning knife.
Hand wash and dry only.
Includes a bonus offset utility knife (not shown).
Lifetime limited warranty.
SKU # 16558060
Mercer® Genesis Six-Piece Knife Set with Glass Block
8
9
Great knives
So for now I have only used them for about 2 weeks, I can't be certain they are durable. What I have noticed is that they are great knives, very sharp and I really enjoy the design and functionality of the set. You can remove everything to be able to clean the inside if needed. Worth the price for now!
July 8, 2014
Great Modern Knife Set
Replaced an old block of Wusthof's with this knife set to better match our kitchen decor. Not only do they look better, but they are higher quality overall. Comfortable handles, sturdy build, well balanced and very sharp! Yes, you have to tilt it to remove knives from under kitchen cabinets, but that's really not a big deal.
January 14, 2013
GREAT knife block!
High quality knives, still VERY sharp after 5 months, and it looks awesome on the counter. The whole "block" comes apart so you can clean it easily or pack it away if you're moving, without having to worry about the glass breaking. We use them every day and they are wonderful.
August 13, 2012
Glass block knife set
Really nice set. Sleek. Does't take up alot of space. Like the feeling of the knives.
April 28, 2012
Mercer Genesis 6 peice knife set w/glass block
very sharp!! fits nicely in limited space counter top
February 15, 2012
Forward Thinking Display/AAA Performance
These knives are sharp and cut like butter. I sliced a frozen salmon like it was nothing. They have great balance with a comfy feeling handle. I LOVE the in-line glass block! Yes, you have to pull the block out from under the cabinet because they lack the clearance needed to get them out. Not a big deal for such great quallity. The trade off is the beauty of the stainless steel/glass display. I especially like that there's no steak knives or other utility pieces like sharpeners and scissors in the set.
January 4, 2012
Good knives, questionable block
I am very pleased with the knives that came with this set which is why I won't be returning the item. They have a nice balance to them and slice well. The block, while it looks great, doesn't function that great as a knife block. The knives are not snug inside of it. They can tilt and slide around a little if you move the block while the knives are in it. I had the block on the kitchen counter for awhile but the knives rattle really loudly whenever I walked around nearby. I have to imagine a powerful home theater system would have the same effect. I kind of wish I had gotten this same set with a wooden block.
July 20, 2011
Excellent Knives
These knives are so worth the price. I am surprised they are not well over $350. Because even at that price they would be worth it. The Santoprene handle makes this knife very comfortable to hold. Even my wife noticed how nice the grip was. I have larger hands and when you are holding these knives they have a nice feel to them. They are very well balanced. I received these knives as a Christmas gift from my wife. I was asking for some Wustof's or maybe some Henkels because I currently own an 8" Wustof Grand Prix Santoku which has been my pride and joy and I wanted to add to the collection, but a nice block set of those could run into the $1000's. Well since I have had a chance to slice, dice and chop some fruits, vegetables and meats over the last couple of days the Wustof has been sheathed and retired. I can not emphasize enough how well these knives can cut. I used the carving knife on a holiday ham and it was like slicing through warm butter. The Santoku minced an onion better that any other knife I have ever used. I tested the paring knife on some radishes and all I can say is wow. Some people have written on other sites that, because of the vertical design of the glass block, you can't get the knives out of the block when it is under a cabinet. I too have this issue but it is not that big of a deal. I just pull the block out from under the cabinet when I need to use the knives. Plus the glass block allows you to show off these beautiful knives. I would recommend these knives to anyone who wants a high quality knife at a very, very reasonable price.
December 27, 2010
Related Searches:
Similar Products: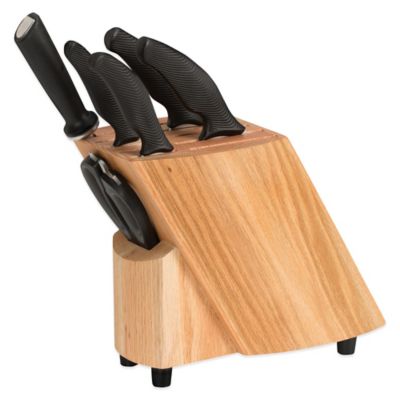 Ken Onion CASCADE® 7-Piece Knife Block Set
Price:
$349.99
Brand:
Ken Onion
Categories:
Kitchen > Cutlery > Block & Starter Sets
Designed by renowned knifemaker Ken Onion, each premium cutlery piece in this CASCADE knife block set features a razor-sharp, high-carbon stainless steel blade mated to a textured, glass-filled polypropylene handle for a secure, non-slip grip.
Also check out:
$39.99

Beyond Value

(64 Reviews)
$29.99

$50 Bonus Gift card with $300 Anolon Purchase

$75 Bonus Gift card with $400 Anolon Purchase

(1 Review)