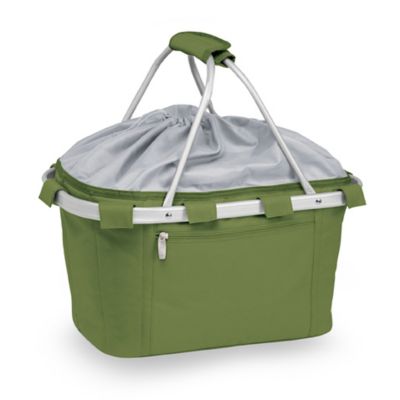 Metro Picnic Basket in Olive
Polyester with an aluminum frame.
Measures 11" H x 19" W x 10" D.
SKU # 15992352
Great product
Very nice basket, made very well, durable and will fold down to store easily.
September 14, 2014
Metro Picnic Basket
I love my Picnic Basket! Mine is red. I would absolutely recommend it, and I can't wait to use it again! I love that it is collapsible, water proof, easy to carry and it is also a great size! When collapsed it fits perfectly in the bottom of my stroller, which is so wonderful! I can't see this picnic basket getting old! I think I'll purchase this as a gift for family and or friends in the future.
September 14, 2014
Great product
Fantastic cooler basket. Light weight yet strong construction, folds down for easy storage.
September 8, 2014
Cool Must Have for Outdoor Activities
I received this as a gift and love it! Great for taking to outdoor concerts, on boat rides, etc. Holds enough food and drinks for an entire afternoon. Folds down flat when empty.
February 27, 2014
buy these baskets often
I give these baskets for wedding presents, stuffed with pertinent items from the bride's registry. They are always well received.
July 9, 2013
Nice Gift
We bought this as an anniversary gift. The friends we gave it to used it within the first week of receiving it & said they really liked it. It was a little bigger than I expected but very nice. The entire thing un-velcro's from the frame for washing.
August 18, 2012
Great picnic basket!
Not too big, not too small and keeps cold food cold. Easily embroidered, too!
August 1, 2012
Excellent
I got this as a gift, and it's great! I used it for the first time last weekend at the beach. I put ice packs next to the drinks and they stayed cold till the next day. And it fit everything.
July 11, 2012
Related Searches:
Similar Products: