Miele AirClean U Dustbag (Set of 4)
Includes four AirClean U Bags.
Included is a pre motor filter as well as a Super Air Clean Filter.
SKU # 16351407
Miele AirClean U Dustbag (Set of 4)
6
6
Love my Miele
The vacuum is great and the filters work well no problems.
September 12, 2014
I am very pleased with my choice
These bags are great - easy to replace and dust stays 'locked' inside completely. I would like to have a chance to buy one of the filters separately - this set comes with 2 filters, one of each kind, but I would like to replace them more often.
September 2, 2014
Miele Vacuum Bags
I have a Miele 7000 series dog and pet vacuum. I have owned numerous vacuums over the years and this is far and away the best I have ever had. The AirClean U dustbags are easy to install and remove. They are sealed so no dust escapes.
July 29, 2014
Best Vacuum Ever
I've never minded spending a little more to get a top vacuum. My old vacuum was a top of the line Simplicity which was good but was lost to a flood. I am so happy to have replaced it with this Miele. I've never had a vacuum with the suction power of this. It almost feels self propelled when you switch it to carpet setting, hang on because it is ready to go. The edge cleaning capability is the best I've ever seen. If there is one negative (and it's really not a negative) it's that I have to be careful when vacuuming my throw rugs because it is really too strong for them and wants to suck them up. I know people say this vacuum is heavy, but seriously?? It's not THAT heavy and does such a great job. And it is far quieter than my old Simplicity.
July 21, 2014
I love My Miele Vacuum
The vacuum is great and the bags are definitely great at filtering. I had a problem installing the bag with no instruction. Information along with the bags as expensive as they are would be helpful.
October 16, 2013
Don't skimp on the bags
I have seen a number of folks comment about the cost of the miele vacuum bags. What I will say is that after spending a premium price for the vaccum don't skimp on the bags and use generic. Miele engineers their vacuums and bags to work synomyously together for optimal suction and filtration. I would not use any other bag, they are by far exceptional bags.
August 20, 2012
Related Searches:
Similar Products: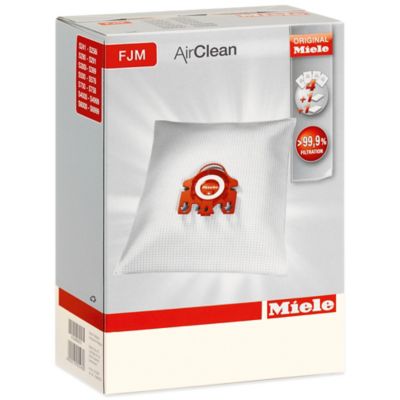 Miele AirClean FJM Dustbag
8 Reviews
Free Standard Shipping
Price:
$18.99
Brand:
Miele
Categories:
Storage & Cleaning > Vacuums & Floor Care > Vacuum Accessories
Miele FJM vacuum cleaner replacement dustbags feature nine layers of microfiber material for higher filtration performance. The easy to remove bag automatically seals when the dust compartment lid is opened, preventing any leakage of dust.