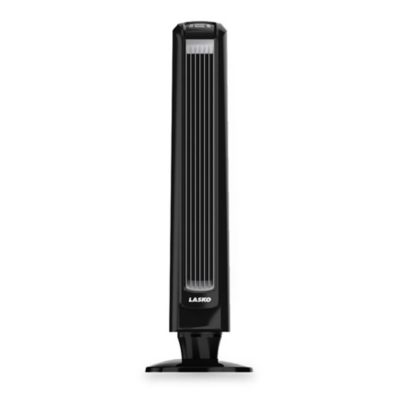 Lasko® 32-Inch Tower Fan with Remote Control
Features include 3 quiet speed settings (31 watts, 33 watts, and 37 watts), electronic 7-hour timer, multi-function remote control that can be stored right on the unit, carry handle and easy-to-use Comfort Select® controls that are top-mounted for easy reach.
Fan also features a patented fused safety plug.
Made of metal and resin.
ETL listed.
Measures 10" D x 32" H.
Simple no-tool assembly.
For indoor use only.
1-year warranty.
Model # 2108.
SKU # 17964062
Lasko® 32-Inch Tower Fan with Remote Control
31
37
Quiet and effective.
This fan has been running most nights, bringing in cool air and allowing me to cut back on the use of the air conditioner. Even at its highest speed, it is quiet, and the oscillation moves the air effectively. I wish I had found it long ago. My highest recommendation.
July 16, 2014
Save the Shipping Box
We bought this fan last year and have loved it - a great fan, a great value. This year I bought one as a gift, and another for our apartment. I took it out of the box, put it on its base, and it worked fine. A day or so later, the buttons no longer worked properly (the power button now controls the fan level, the fan level controls the oscillation, etc. - and the only way to turn it off is to unplug it). But I had already thrown out the box. I live in a city, and to return it at a BB&B store (and replace it) would require a $15-20 cab ride. I wrote to BB&B customer service about this, and they suggested I take it back to the store. So I will have to tack another $20 (and a wasted hour or so) onto the price. Hmmm ... no longer such a great value.
July 8, 2014
Broke after a couple weeks
This was a nice fan and I loved it for the first 2 weeks I had it. Then the base broke where the fan oscillates for some reason. Maybe too many oscillations? maybe the triangle screws were torqued too tight at the factory. The rest of the fan works, it just won't stand up or oscillate. I have it setting on its side now, but it isn't the same.
July 3, 2014
Just not what I thought
I was looking for a fan that had more rotating ability and more air push. Plus I for some reason thought that it would be a bigger fan. Like wider, so that more air was pushing out. But when I got the fan it was super thin and just didn't rotate enough. I had to return it.
March 10, 2014
Great fan!
I stood this fan on top of my dresser and it cools down my entire bedroom. It was slightly smaller than I expected it to be, which is why I took 1 star away, as it is not tall enough to create a breeze over my bed if I put in on the floor. Hence why I put it on my dresser. But it's extremely powerful and pretty quite as well. So it's still a great fan!
September 16, 2013
I LOVE THIS FAN.
Title says it all. This fan is amazing. I carry it all over my apt and sit it right next to me. I sleep so much better with it on too. Sounds over the top but I LOVE IT. Yes makes a slight humming noise (for you super light sleepers)
May 17, 2013
FANtastic
I purchased the Tower Fan because I don't like to clean fan blades. This fan is amazing! It cools more efficiently and it is so quiet.
May 10, 2013
Good product, not powerful
I like the fan for its space efficiency, consistency, and relative quiet, however, I found it to be best used at close range (a few feet), making it almost more of a "personal fan." Depending on what your needs are, this could be fine, but if you seek to create a room breeze or something that will move air over more distance, I'd say you are better off with another model. After using it for a season, I am selling mine and going for a second Lasko pedestal fan. Lasko is a good company and they have been very helpful on the couple of occasions I have called with questions about a product.
February 20, 2013
Related Searches:
Similar Products: