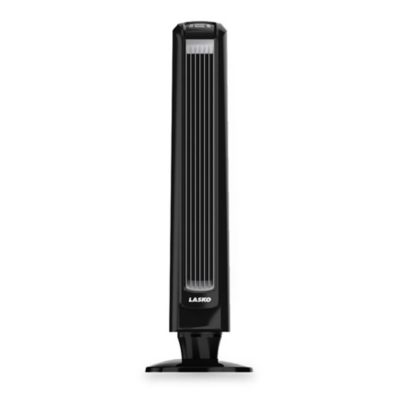 Lasko® 32-Inch Tower Fan with Remote Control
Features include 3 quiet speed settings (31 watts, 33 watts, and 37 watts), electronic 7-hour timer, multi-function remote control that can be stored right on the unit, carry handle and easy-to-use Comfort Select® controls that are top-mounted for easy reach.
Fan also features a patented fused safety plug.
Made of metal and resin.
ETL listed.
Measures 10" D x 32" H.
Simple no-tool assembly.
For indoor use only.
1-year warranty.
Model # 2108.
SKU # 17964062
Lasko® 32-Inch Tower Fan with Remote Control
37
44
I did like the rotating feature and remote control
It worked fine for first 3 hours, then it stopped blowing air. I had to return it and purchase a more expensive brand that works fine.
August 11, 2014
LOVE this fan!
This fan has been a lifesaver during our unusually hot summer up here in North Idaho. Not only is it very compact and quiet, I have not even had to turn it on "high" yet! Thank you for an excellent product, sadly so rare these days. And the ordering process through Bed, Bath and Beyond could not have been easier.
August 5, 2014
Excellent
A life saver during this summer. I'll get another one as soon as I get my discount coupon. Thanks..
August 4, 2014
First fan I purchased burned out within 2 months of purchase. Bed Bath and Beyond replaced without question. Arrived at my home within 1 week. Appears to be functioning very well. Like the tower design.
August 4, 2014
tower fan
The first fan burned up within 2 months of purchase. Bed Bath and Beyond replaced without question. The replacement fan arrived at my home within a week and seems to be working wonderfully
August 4, 2014
Great buy!
This is a great fan for the price. It was simple to put together and is very easy to use.
July 28, 2014
Quiet and effective.
This fan has been running most nights, bringing in cool air and allowing me to cut back on the use of the air conditioner. Even at its highest speed, it is quiet, and the oscillation moves the air effectively. I wish I had found it long ago. My highest recommendation.
July 16, 2014
Save the Shipping Box
We bought this fan last year and have loved it - a great fan, a great value. This year I bought one as a gift, and another for our apartment. I took it out of the box, put it on its base, and it worked fine. A day or so later, the buttons no longer worked properly (the power button now controls the fan level, the fan level controls the oscillation, etc. - and the only way to turn it off is to unplug it). But I had already thrown out the box. I live in a city, and to return it at a BB&B store (and replace it) would require a $15-20 cab ride. I wrote to BB&B customer service about this, and they suggested I take it back to the store. So I will have to tack another $20 (and a wasted hour or so) onto the price. Hmmm ... no longer such a great value.
July 8, 2014
Related Searches:
Similar Products:
Also check out:
$7.99 Each

Exclusively Ours

(3 Reviews)

Twin $99.99 - Cal King $199.99

Exclusively Ours

(56 Reviews)

$29.99

Beyond Value

(5 Reviews)

$59.99 - $99.99
(6 Reviews)

$29.99 - $79.99
(111 Reviews)
$49.99

Excluded from Pack and Hold

(3 Reviews)

$9.99 - $12.99
(11 Reviews)