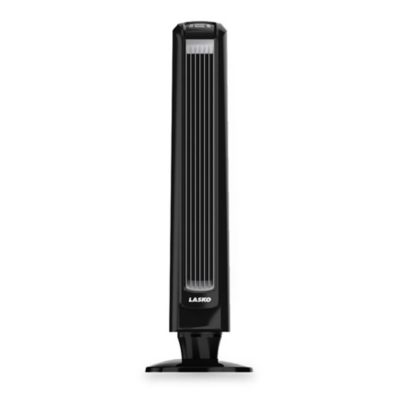 Lasko® 32-Inch Tower Fan with Remote Control
Features include 3 quiet speed settings (31 watts, 33 watts, and 37 watts), electronic 7-hour timer, multi-function remote control that can be stored right on the unit, carry handle and easy-to-use Comfort Select® controls that are top-mounted for easy reach.
Fan also features a patented fused safety plug.
Made of metal and resin.
ETL listed.
Measures 10" D x 32" H.
Simple no-tool assembly.
For indoor use only.
1-year warranty.
Model # 2108.
SKU # 17964062
Lasko® 32-Inch Tower Fan with Remote Control
47
58
Cheaply made, yet effective
This fan sorta has it's own little niche. I like a fan on me durning the warmer months, however the traditional fans (even on low) are just too much to have directly on you. This fan is best for one person directed right at you. It disperses a lovely breeze which is almost like a tropical ocean trade wind. It has 3 speeds and is nicely designed to not be esthetically obtrusive in a nicely decorated room. The stand is VERY cheap. It broke after a couple of days and i returned it to Bed, Bath & Beyond. As usual, they were a delight to work with. I am very happy with this product. I just highlight the fact that if you are in a very hot climate, you might need a stronger traditional pedestal fan.
November 4, 2014
Good Fan
The fan works fine. The remote control is a piece of junk.
November 3, 2014
I own two of these fans in our home & love them!! My husband & son wouldn't be able to sleep without them..
November 3, 2014
Fan
It is perfect for my needs. Works great. Takes up little space
November 3, 2014
Good for certain uses
This unit does not put out as much volume as I had hoped. It is , however, very nice to put directly on you when you just want moderate cooling or at night it's great as it doesn't dry out my eyes too much. The base is super cheap and brittle plastic, so be sure not to hit it on a door on the way to another room. It's the only piece you'll have to assemble . Over all good product and great service from BB & Beyond.
September 22, 2014
good for small area but not large room
not powerful enuf for large room...maybe an 6 X 6 area only
September 22, 2014
The design is a space saver and the features including the remote control for the price was a great purchase.
September 16, 2014
Very poor
Barely any air movement when set on high. Fan stopped working after 2 weeks!
September 12, 2014
Related Searches:
Similar Products: