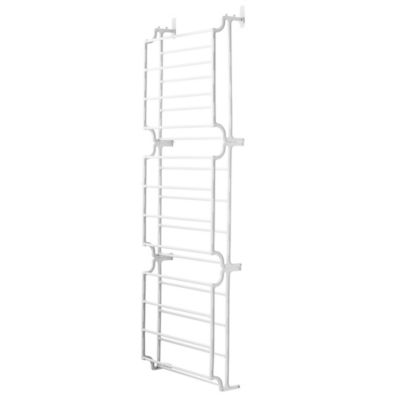 36 Pair Over-the-Door Shoe Rack
Shoe rack is quick and easy to assemble and no tools are required.
Holds up to 36 pairs of shoes or shoe boxes.
Measures 22 1/2" L x 7 1/2" W x 73 1/4" H.
The over-the-door bracket contained in the package only fits the standard 1 3/8" residential door.
SKU # 14093249
36 Pair Over-the-Door Shoe Rack
68
70
The shoes do not stay on the rack and the rack comes apart. When you open and close the door it swings and the shoes fall off the back. One day I heard a loud bang and the whole rack had come apart and all the shoes had fallen all over the floor. AWFUL!!!
July 5, 2014
Terrible Product
I would not recommend this shoe rack. I have only had it for a week but it has been nothing but a headache. Every time we open the closet the shoes push the rack away from the door and all of the shoes fall out the back. Incredibly frustrating.
June 28, 2014
Excellent Product
I have owned this item for over 15 years. I have had it double loaded with approximately 72 pairs of shoes, mainly flats and wedges. It has held up and works perfectly. I am now trying to figure out how to anchor it to a wall instead of over the door. I love this item because I can get so many pairs of shoes on it. I have had none of the issues that other have complained about. Maybe they just don't know how to properly install the product.
June 19, 2014
Awful
This shoe rack is truly terrible. The shoes are constantly falling off the rack and the poles spontaneously pop out of place. Practically any movement of the door results in a pile of shoes on the ground. We've been dealing with this rack for years thinking that all over-the-door racks would probably be about the same, but we've finally had enough. Looking for a replacement asap.
June 18, 2014
It IS what it is! and GREAT value for the money
I see some complaints here about this rack and mine just broke today..... after 15 YEARS!!!! I'll say that I got my money's worth... It came apart a couple of times (at where the sections join) but that can happen when you move it around a lot and was not big deal. for the record mine was FULLY utilized and I have big feet LOL and plenty of platform stilettos - all that to say that it was HEAVILY loaded and lasted this long. For the money, it's a good investment and easy to put together. I'm getting another one today. That should speak volumes for satisfaction. Of all of the racks available, I found this to be the best option. Sturdy, roomy and easy to put together. I have some of the "plastic bag" variety and they are ok for flats, but not heels and not as durable as this. If this failed for someone right away, I'd look at the user not the equipment :-)
June 7, 2014
totally awful
this thing is horrible. the shoes constantly slide down and off the rack...the poles pop out. total waste of money.
June 6, 2014
This is a waste of money!!!!! I bought it for my daughter and it fell off the door THREE times , it is weak , poorly made and the hooks for over the door are worthless, 36 pairs of shoes is a joke , it dosent even hold 2 pairs , and they better be feather light. Do not buy this , I am now out 30.00 ,because it went in the trash !
June 1, 2014
not bad for what it's worth
I bought this show rack nearly 4 years ago and it only just recently broke apart on me. Keep in mind though that I shoved more than the recommended 36 pairs of shoes in it as well. Anyway I am now looking for a new shoe rack and I have come back to this one again which I think is still around the same price that I paid for it 4 years ago. The rack itself is easy to install however you do have to screw it into the closet (or the preferred door of your choosing) which some people might have issues with. Also it after it's installed on the door the door doesn't close all the way. I say for the price it's a pretty good buy, and I don't think you will find anything similar.
May 30, 2014
Related Searches:
Similar Products: