Milkies Milk-Saver®
Milk-Saver is slim so no one will even know you're wearing it.
Comes with a stylish case that keeps it clean, and also doubles as a stand to eliminate spills during your breastfeeding session.
Simply slip Milk-Saver into your bra-cup on the non-nursing side before you breastfeed.
It then collects the breast milk that is leaked out when your milk lets down.
You can store this milk and save it for any time you need it.
SKU # 16571881
So much milk I didn't need to pump
I used to collect 2-4 oz of milk in one sitting in my peak nursing months (first 3 months). The only problem is that I wouldn't recommend this as a substitute to breast pads while not at home. Once milk is in the milkies, it can spill out if you are not sitting straight up and the shape is bulky so it probably will be noticeable unless you wear loose clothing. I guess the concept makes sense since you shouldn't be walking around for hours with unrefrigerated breastmilk. However, for nursing at home, I highly recommend keeping these, a 10-12 hour bottle cooler, and storage bags by your bedside. Just pour the milk from the milkies into the storage bags and store the bags in the cooler until your next trip to the kitchen. I had more milk than my baby could drink at the time! Amazing!
April 16, 2012
Able to stop pumping as saves so much milk!
Am amazed by how well this works! Collects so much milk on the non-nursing breast that I have been able to stop pumping as collects more- and is much more pleasant than pumping.
September 22, 2014
Great Idea
Although I haven't actually started using it yet (baby#2 will be here any day now!!) I love the idea. I nursed my first and hated how I would leak on the opposite side and wasted that milk. I used to even apply pressure to that side in order to stop the leaking. Now I can put the milk saver in and have a more enjoyable nursing session. It is on the big/bulky side but HEY, that's what a nursing cover it for! Good luck and happy feeding!
August 11, 2014
Not for me...
The product seems to do as it says however it is not very descriptive with details of the product. The product DOES work well only if you have one child. I am a mother of twins and found that the product not only comes with just one milk saver but is humongous on my breast as well. I am not busty like most women so this was not for me. Also the fact that I have to purchase two of the milk savers because I feed them both at the same time. It is not wearable to go out because it pops out and makes the breast look weird. Its only good for in home use. Whoever says this is wearable outdoors I tip my hats to them cause it is not so in my case.
January 8, 2013
Worth Every Penny!!!
At first I thought these are a little on the pricey side, but I have saved atleast $30 in nursing pads. I can I collect about 2 oz from the side I am not nursing on. I am able to collect enough to make bottles for dad and store the extra in the freezer. I would
January 7, 2012
A Breastfeeding mom's friend
At first I was thrown back by the price, let's face it it's almost $30. I wasn't sure if it would be worth it & I think you can't return these type of products. It is well worth it though! Placing this on the non-feeding breast collects the milk that comes with let down and I personally have been able to collect up to 3oz sans pump thanks to this product! Any mom who breast feeds knows it's liquid gold so why loose even a drop when you can collect it?
March 16, 2011
Life saver!
My lactation consultant suggested this and I love it! No more wasted milk and wet tops during morning feeding. Best of all I can almost fill a bottle with what I catch. It does seem large at first so it works best snuggly tucked into a nursing cami rather than a fitted bra.
February 15, 2011
Enormous....but does the job
I read other reviews about this product and everyone commented on the size. I was still surprised when it arrived! I have large breasts, so it works just fine for me, however. The size is my only gripe because this product is brilliant! I usually can make an 8oz. bottle every day without needing to pump. Just wonderful! As a bonus, I have saved so much money on nursing pads because I am not going through them as quickly as I was!
July 7, 2010
Related Searches:
Similar Products: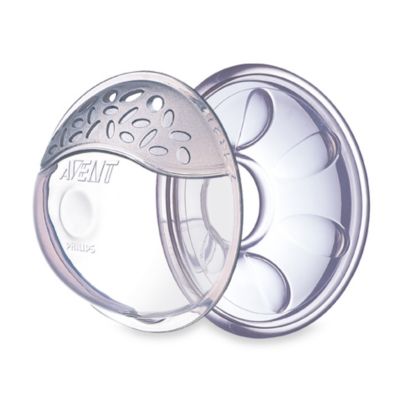 AVENT Isis Breast Shell Set
Price:
$16.99
Brand:
Avent
Categories:
Baby & Kids > Nursing & Feeding > Nursing
These ventilated breast shells from AVENT protect sore or cracked nipples during the healing process by providing exposure to air while protecting clothing. The breast milk saver shells collect leaking milk during feedings.
Also check out:
$14.99

$5 Bonus Gift Card with Purchase of $25 or more

(3 Reviews)

$34.99 Each

$5 Bonus Gift Card with Purchase of $25 or more

(23 Reviews)

$29.99 Each
Oversized
(27 Reviews)