Miracle Foot Repair Cream
Fast acting foot cream
As Seen On TV
With 60% pure aloe, it's guaranteed to repair dry, cracked feet and heels
Additionally, it can eliminate foot odor and put an end to itchy feet
Safe for diabetics and aloe scented
8 fluid ounce tube
Imported
SKU # 12373929
Miracle Foot Repair & Hand Repair Cream
Are your feet so embarrassingly dry and cracked that they rip your stockings? Or if calluses and itchy feet drive you crazy, then you need Miracle Foot Repair, an amazing new miracle cream that instantly relieves dry, cracked, itchy feet the very first time you use it, guaranteed. Just apply Miracle Foot Repair and watch. Dry, bumpy skin becomes baby soft. Cracked, hard heels that rip cotton transform to smooth, silky skin overnight. Even calluses, cracks and odor disappear like magic. The secret is aloe vera, certified by the International Aloe Science Council, with the ability to effectively penetrate through layers of skin, speed up cell renewal and repair dry, cracked skin. Your feet will look and feel 10 years younger. Look, feet become dry like this sponge. But Miracle Foot Repair penetrates feet like this sponge, giving you smooth, soft, supple feet. It's a must for diabetics, soothes achy feet. My husband's feet were cracked, ugly and smelled.
Since Miracle Foot Repair, they smell beautiful and they feel great. As an active person, my feet were dry, itchy and callusy. But after the Miracle Foot Repair, they were smooth and soft. Pedicures cost up to $500.00 a year. These products only have 5 percent aloe vera, but Miracle Foot Repair contains 60 percent of certified aloe vera. Get Miracle Hand Repair. Moisturize dry, flaky skin instantly. My hands were dry. They were cracked. Very hard, very leathery, but they were transformed when I started using Miracle Hand Repair, and they're young and soft and supple again. We guarantee Miracle Foot Repair will relieve your trouble.
Miracle Foot Repair Cream
13
14
Makes feet feel and look good
This lotions helps dry rough feet feel and look soft.
May 12, 2014
Miracle Foot Repair
I have been diabetic since 1996 and this is the best product I have found for my feet. Thank you so much for carrying it in your stores. I have shared a tube with my son who is on his feet all day and he really likes it also.
April 7, 2014
My feet were SOOOO happy!
I have used this product now for 4 years and my feet are soft and supple. When I started, I had rough feet, calluses, and tough skin around my toenails. Not anymore. If I run out and have to wait to get more I notice the dryness right away. Other products I tried do not give me the softness Miracle Foot Repair does. I gave a tube to my son-in-law, the tennis pro who suffered from athletes foot - and he loves it as much as i do.
January 20, 2014
Smooth skin!!
Absorbs quickly; slight fragrance; makes skin feel good.
August 3, 2013
Great and not just for your feet!
I've purchased this product now for 3 years, it's amazing! I not only put it on my feet (at night and wear cotton socks to bed and voila) and then I put it on my daughters face to clear up her skin again VOILA no more prepubescent acne, and my mom's bad psoriasis *she's 80 and diabetic so her skin is very delicate...her dry skin is gone and her face is completly clear! I LOVE this stuff and highly recommend it!!!
June 5, 2013
This product really is a miracle!!!!
Unlike so many others, this product lives up to its claims. It's really rich so I thought it will feel greasy and wouldn't absorb. But it soaks right in, cools and soothes your feet and if I put it on before bed, I wake up with soft feet. It works great on cracked heels too if used for 2 or 3 nights in a row. And it smells great.
May 31, 2013
Miracle Foot Repair Cream
I was very disappointed. I followed the directions and do not see any results. Your advertisement sounded so convincing I purchased both the miracle foot cream and the hand cream. Sorry, but they did not work for me.
January 24, 2013
Foot Cream
Actually this is a stocking stuffer for my granddaughter. Put in her stocking last year and she loved. She is a soccer player so the feet get lots of abuse. She would recommend.
December 14, 2012
Related Searches:
Similar Products:
Ahava Mineral 3.4-Ounce Foot Cream
Price:
$21.0
Brand:
Ahava
Categories:
More > Beauty & Spa > Skin Care
This pleasant foot cream is rich in Dead Sea minerals, natural plant derivatives and tea tree oil. It renews rough skin, repairs splits and cracks and prevents dryness.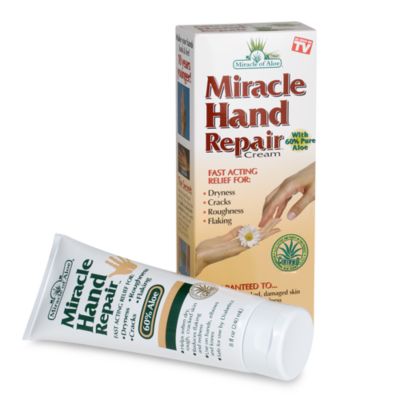 Miracle Hand Repair Cream
Price:
$9.99
Brand:
As Seen on TV
Categories:
More > Beauty & Spa > Skin Care
Tired of dry, damaged skin? Get fast acting relief with Miracle Hand Repair Cream.