Miracle Hand Repair Cream
As Seen On TV
With 60% pure aloe, it's guaranteed to repair dry, cracked and damaged skin.
Additionally, it can reduce flaking and redness while moisturizing and softening.
Safe for diabetics and aloe scented.
8 fluid ounce tube.
SKU # 12876807
Miracle Foot Repair & Hand Repair Cream
Are your feet so embarrassingly dry and cracked that they rip your stockings? Or if calluses and itchy feet drive you crazy, then you need Miracle Foot Repair, an amazing new miracle cream that instantly relieves dry, cracked, itchy feet the very first time you use it, guaranteed. Just apply Miracle Foot Repair and watch. Dry, bumpy skin becomes baby soft. Cracked, hard heels that rip cotton transform to smooth, silky skin overnight. Even calluses, cracks and odor disappear like magic. The secret is aloe vera, certified by the International Aloe Science Council, with the ability to effectively penetrate through layers of skin, speed up cell renewal and repair dry, cracked skin. Your feet will look and feel 10 years younger. Look, feet become dry like this sponge. But Miracle Foot Repair penetrates feet like this sponge, giving you smooth, soft, supple feet. It's a must for diabetics, soothes achy feet. My husband's feet were cracked, ugly and smelled.
Since Miracle Foot Repair, they smell beautiful and they feel great. As an active person, my feet were dry, itchy and callusy. But after the Miracle Foot Repair, they were smooth and soft. Pedicures cost up to $500.00 a year. These products only have 5 percent aloe vera, but Miracle Foot Repair contains 60 percent of certified aloe vera. Get Miracle Hand Repair. Moisturize dry, flaky skin instantly. My hands were dry. They were cracked. Very hard, very leathery, but they were transformed when I started using Miracle Hand Repair, and they're young and soft and supple again. We guarantee Miracle Foot Repair will relieve your trouble.
Miracle Hand Repair Cream
9
11
Miracle cream eczema!
This cream is excellent! Moisturizes dry skin and helps to remove peeling!
September 11, 2014
Soft as Silk
This lotion soothes rough skin and makes them feel silky smooth
May 12, 2014
this product is more than a miracle
Hey to all the people that get to read this.True story I am about to explain, at age 33 I was living on the street and collecting cans in 20 degrees fahrenheit whether snow, rain, and sleet, my hands where getting cuts around my fingernails and at night I had a throbbing pain coming from it.I purchased this miracle hand cream and I was cured in about 3 or 4 days.I want to really have people understand that this cream is like no other out there it has 60% aloe in it which I believe is the medicine part that is working the magic to the hands.I am now living in an apartment and still use Miracle Hands I am a plumber and mostly work without gloves.For all those plumbers out there that have wives who complain about their hands.This is what you need.
October 1, 2013
It really is a "Miracle"
This lotion is unbelievable. It does everything it claims and on top of that, it is luxurious, really hydrating and soaks right in, leaving no greasy feeling.
March 7, 2013
UNBELIEVABLE!
I bought this lotion on a whim while visiting a BB & B in Ogden, UT. I saw it and thought what the heck. I do "cleaning" for a job, my hands are torn up constantly, I have tried everything to no avail. I purchased this originally thinking " This probably won't work that well, I have tried every cream on the market ". BOY, was I surprised! I am now trying to find out how to purchase a case of it!!! I live in a different State and am now desperate to contact BB & B to send me alot more. I used it 1 night and cannot believe how my hands look this morning! My hands are constantly chapped, cracked, bleed, sore, hurt, skin burns from chemicals I use, and I wear heavy gloves while cleaning, so I am shocked this really worked! I love AVEENO, but this is absolutely the best product I have ever encountered and I am stilll in shock this literally worked in one night!!!!!!!! Anyone woman in their right right mind, HAS TO TRY THIS!
May 29, 2012
Miracle Hand Repair Cream
This hand cream is excellent. The aloe content must be a large part of its success. There are several people in my extended family that use this -eg (after chemotherapy, and an elderly person that works diligently with his hands.)
May 16, 2012
Good amount for the price.
Feels good on my hands. Not at all greasy so easy to apply.
January 26, 2012
best hand lotion
I have used Miracle Hand Repair lotion for over five years! My skin and finger nails LOVE it.
March 2, 2011
Related Searches:
Similar Products: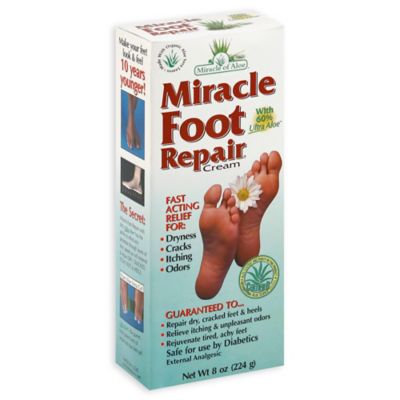 Miracle Foot Repair Cream
Price:
$9.99
Brand:
As Seen on TV
Tired of dry, damaged skin? Get fast acting relief with Miracle Foot Repair Cream.
Also check out:
$7.99

Exclusively Ours

(27 Reviews)

$4.99

$1.99

Clearance!

(1 Review)