MiracleWare® Meals in Minutes Microwave Bacon Grill
Grill is great for microwave snacks or can be used as a defrosting tray.
Measures 12" x 10" and is 1 1/4" deep.
Freezer and microwave safe.
Top rack dishwasher safe.
SKU # 13461406
MiracleWare® Meals in Minutes Microwave Bacon Grill
8
8
Microwave Bacon Grill
Was worried it wouldn't go around in the microwave but it did. Little deeper then our last one, so feel better when moving it and the grease.
April 7, 2014
Perfect!
Perfect size so that you can fit an entire strip of bacon in lengthwise. 4 to 6 strips will fit in the pan at a time (depending on the width of the bacon). Thick bacon takes about a minute or a minute-and-a-half per strip at 80% power (recommended by label for newer microwaves) when pan is full. I put a paper towel over the top to reduce spattering. I had previously had one of these of a different brand but it was too small to hold a full strip of bacon without either scrunching it or letting it hang over the side... That one developed a crack after several years of use, and I knew I'd seen this one somewhere and knew I wanted the bigger size. I am very pleased. Soaked it in warm soapy water while we ate, and cleanup went very well with just a little elbow grease and the dishrag!
April 6, 2013
bacon grill
I love my new bacon grill, easy to use, put in dishwasher, grease goes off into the well....perfect
October 20, 2011
I like it!
I actually like this a lot. It's nothing special, it doesn't magically cook bacon or anything. However, it's just better in my opinion to use this than a plate....it doesn't get as hot as a plate does and it's much easier to clean. It's cheap and I would definitely recommend it.
September 7, 2011
Not a good buy
When I saw the reviews for this product were mixed, I decided to give this bacon plate the benefit of the doubt, especially since 2/3 reviews were 5 star reviews. However, after purchasing this plate, I quickly realized that there was a reason another customer gave it only one star-- and I should have paid that review more heed. This was a poor purchase. Not only was their a tendency for the bacon in the center of the plate to burn (even across different microwaves and various power levels), but the plastic REALLY leached out of the plastic, even after repeated uses and washes. The smell was enough to blanket the entire house. I do not recommend this product.
March 27, 2011
Been looking for replacement!
Love this rack. big enough for whole strips. The secret to cook bacon in this rack, is to 1. use very cheap paper towels, like Bounty, doubled on bottom and top. This prevents plastic taste from new plastic, and prevents spatter on inside of microwave unit, and prevents bacon curl - you get flat whole strips. 2. Use high heat for only 1/3 cooking time, 4 or 5, then defrost(3) for remaining third, a bit more for extra crispy. This prevents burn or over-done and under-done spots, by allowing for more conductive heat time after cocking temp reached - and prevents popping explosions always caused by over-heat in griddle or MW. . Also allows dabbing off grease, by pressing lightly on top paper towel when done. I remove my strips onto another paper towel, because I like extra crispy dry. On 3 for 30 sec, 5 pcs, dab off foam bubbles.
December 14, 2010
Love it
I love this tray. My mother-in-law got it for me and I didn't use it for months because I was such a skeptic. But I'll never make bacon in a pan again. Two things I recommend: 1. Spray it with cooking spray to make cleanup even easier. 2. It says to microwave on high one minute for each piece and that is way too long if you're using regular bacon (as opposed to the thick stuff).
November 23, 2010
HORRIBLE!!!
I bought this to try to make cooking bacon in the morning easier before work but the 3 times that I used it- I had to throw the bacon away because it smelled and tasted like plastic. I think the plastic was leaching out of the tray- it was awful and I believe unsafe! I would never use this product again.
October 25, 2010
Related Searches:
Similar Products: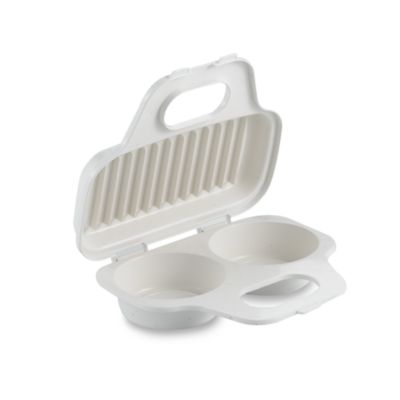 MiracleWare® Meals in Minutes Microwave Egg Poacher
Price:
$3.99
Brand:
Progressive
Categories:
Kitchen > Kitchen Tools & Gadgets > Specialized Kitchen Tools
Microwave egg poacher is a quick and healthy way to poach eggs. Helps to maintain maximum food nutrients.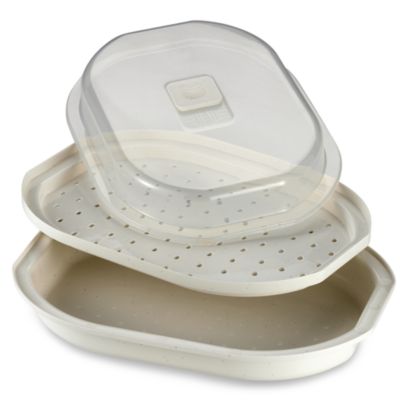 MiracleWare® Meals in Minutes Microwave Fish and Vegetable Steamer
Price:
$9.99
Brand:
Progressive
Categories:
Kitchen > Kitchen Tools & Gadgets > Specialized Kitchen Tools
Steamer provides a quick and easy way to cook fish and vegetables in the microwave. Helps to maintain maximum food nutrients.