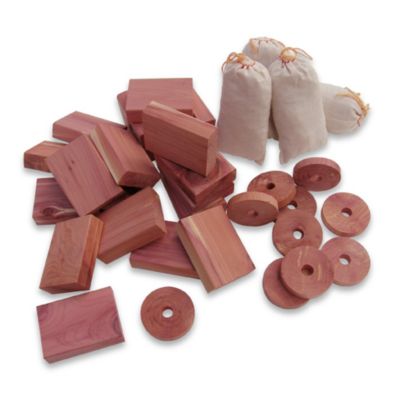 36-Piece Cedar Pack
works very well
I do not understand the other reviews after getting home with this product I put one block in my closet and 2 more in my dresser within an hour my whole bed room smells of cedar.
September 10, 2014
Not worth it
The scent was virtually non-existent from the time opened the packaging. Would have returned them but didn't want to go through the hassle.
December 10, 2013
Don't waste your money!
These do not work at all. I wish I kept the packaging so I could return them. They smell when you put them up to your nose but DO NOT make your closets/drawers smell AT ALL. Even the sachets are worthless. Very disappointed.
April 18, 2013
These chips are reasonably priced
Good price but only really lasts strong smelling for a year.
January 19, 2012
Related Searches:
Similar Products:
Also check out:
$4.99

$2.99

Clearance!

(8 Reviews)

$14.99

$9.99

Clearance!

(22 Reviews)

$5.99

Beyond Value

(17 Reviews)

$3.99 Each

Beyond Value

(8 Reviews)
$14.99

Beyond Value

(38 Reviews)

$18.99

Free Standard Shipping

(1 Review)

$14.99

Exclusively Ours

(32 Reviews)

$9.99

Beyond Value

(30 Reviews)

$19.99

Beyond Value

(30 Reviews)

$29.99 Each

Beyond Value

Exclusively Ours

(23 Reviews)