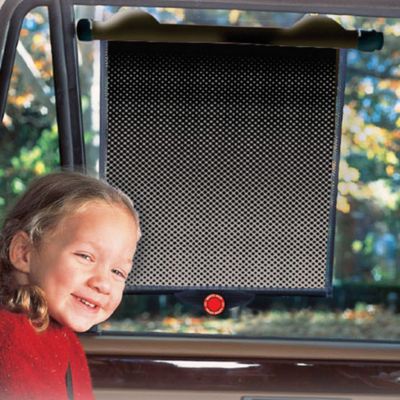 Munchkin® Car 2-Pack Sun Shade
Sleek design is ideal for all car interiors
Easy to attach
Measures 14" H each
2-pack
SKU # 14958649
Munchkin® Car 2-Pack Sun Shade
14
14
Suctions wont stick
Nice design but the most important element the suctions dont work, they simply wont stick, save your money low tech solution just use a towel jimmied between the windows, looks bad but works perfectly.
May 19, 2014
Sunction cups stopped working after 1 month
I got the SunBlock Shade for each of our cars. The suction cups stopped working in 1 month in the one car and in the other after 2 1/2 months, this car is kept in the garage. The suction cups flattened out and could not get them to stick anymore. Love the idea, but just didn't hold up.
April 11, 2014
Suction cups don't stick
The shade was good when I first applied but after 2 months it fell down and will not restick despite trying different things (cleaning, moist, dry). Do not buy.
February 23, 2014
Worse than horrible!
Suction cups do not work and the "HOT" button reads hot even when it was 50 degrees!
September 5, 2013
The suction cups do not work. I definitely do not recommend this product!
July 17, 2012
Horrible
The suction cups are horrible. They fall off within seconds/minutes. I took these back and bought the brica stretch to fit shades, (they are SO much better) and worth the $.
May 15, 2012
Waste of money!
This is a terrible product. How hard is it to make a suction cup that actually sucks? I've tried everything to get this shade to stay on the window, with no avail. This product should be recalled for its ineffectiveness. Piece of junk!
January 1, 2012
Unsafe. Shame on Munchkin.
This sun shade is truly awful. I've tried to use it in several temperature conditions and it has fallen off the window every single time. Sometimes it falls off as soon as you shut the door. Sometimes it falls off after you've started driving. Either way, it's unsafe and has seriously startled our baby. It may have hit her on the way down this last time. Into the trash it's going, but first I'm writing reviews in as many places as I can to discourage other people from buying it. Munchkin needs to fix this.
September 26, 2011
Related Searches:
Similar Products: