Munchkin® White Hot® Safety Duck Tub
Safety disc turns white when water is too hot
Suggested age is 6 - 24 months
Never leave your child unattended in the bath tub
SKU # 13589704
Munchkin® White Hot® Safety Duck Tub
9
9
I love this duck!
I love this inflatable bath duck! My son is 20lbs and about 29 inches tall at 8 months. He fits just fine in it. I think its perfect for his size.
February 26, 2014
Not as great as I thought
This tub is a good transition for kids between the infant tub and large tub, but it is not as good as I thought it would be. It holds a very small amount of water and if you have water in the regular tub, the duck will float, which makes it hard to have fresh rinse water available. It is also difficult to store due to the size. I think this tub is best for 12-24 mo. I would pass on this tub.
June 14, 2012
Excellent Product!!
This kept my little one safe in the bathtub. He is now 18 months and i am so sad he is outgrowing it. I really wish they would have come up with one that fits the next stage until they are more stable on their feet. It saves on filling the tub with a whole bunch of water that my son definitely doesn't need.
July 19, 2014
Duck is Damage
i buy this Duck last year, but its was damage Damage Duk
June 25, 2014
Best gift!
This tub is awesome! Once my son outgrew his infant bath I tried to put him in the tub but leaning over the edge to wash him was killing my back and I was always afraid he would tip over and bang his head on the side or floor of the bathtub. Then I was given this duck tub and I set it up on the bathroom floor so I could sit next to the baby and wash him easily. It provides a soft and supportive space for the baby to sit and splash and he loves it!
March 21, 2014
Cute and easy
this tub is adorable for a child and also very quick and easy to set up, use, and clean. works very well!
February 5, 2014
Better than expected
My son started using this as he was learning how to sit-up on his own plus he grew out of his other bath tub. One reviewer claimed there wasn't enough room for water. That is the whole point. There is just enough room so that the baby can sit-up and be covered in water, but it not be a hazard if the baby falls over. My son LOVES this tub. He loves when I touch the ducks beak and it makes a quack quack noise. I can't speak highly enough.
January 22, 2014
LOVE THIS TUB
My daughter loved this tub. She would constantly ask for a bath if she could go in her ducky tub and her first birthday was duck themed purely because how much she loved ducks because of this tub. She loved hearing him squeak! This was a must have on my list for my second child!
October 4, 2011
Related Searches:
Similar Products: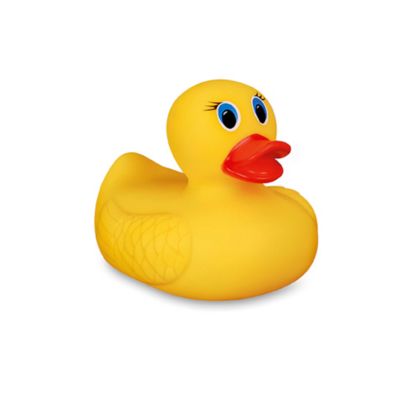 Munchkin® White Hot® Safety Bath Ducky
Price:
$3.29
Brand:
Munchkin
Categories:
Baby & Kids > Bath & Potty > Bath Accessories
More than just an adorable bath-time companion, Munchkin®'s White Hot® Safety Bath Ducky can tell you if the water is too hot for baby. The White Hot® Safety disc on the bottom toy reveals when the bath water is too hot to be safe for your child.
Also check out:
$3.99

Beyond Value

(5 Reviews)