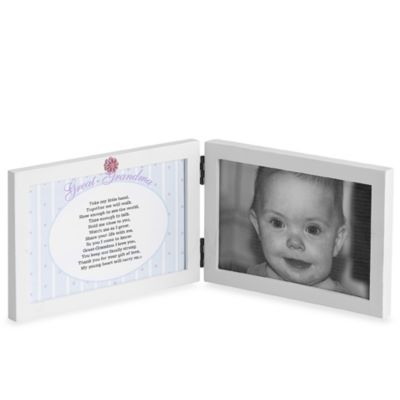 My Great-Grandma Photo Frame
Slow enough to see the world, Time enough to talk.
Hold me close to you, Watch me as I grow.
Share your life with me, So you I come to know.
Great-Grandma I love you, You keep our family strong.
Thank you for your gift of love, My young heart will carry on.
®Teri Harrison.
SKU # 15892234
My Great-Grandma Photo Frame
1
1
Bit Pricey but well worth it
I bought this for my Grandmother, who is my daughter's Great Grandmother. I put pictures of the two of them together in the frame. My Grandmother loved it, she cried when I gave it to her. The reason I give it 4 stars rather then 5 is because it was a bit pricey and I had to order online because it was not available in store.
January 3, 2012
Related Searches:
Similar Products: