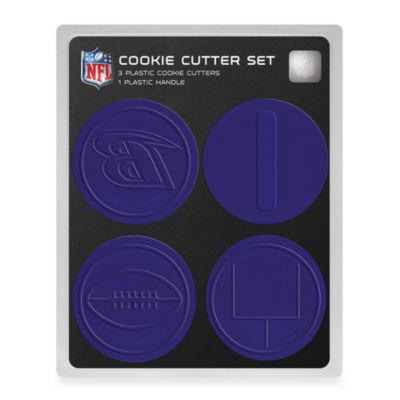 NFL Cookie Cutter Set in Baltimore Ravens
These round plastic cookie cutters leave an imprint of your favorite team logo on your cookies.
NFL set includes one logo shape, one football shape and one goalpost shape cutter.
Includes detachable handle to use with the different molds.
SKU # 18562510
NFL Cookie Cutter Set in Baltimore Ravens
1
1
Difficult to Work With
I tried the cookie cutters with a rolled sugar cookie dough. The instructions said to roll the dough thick. The impressions did not show up as well as I hoped. Cookies were difficult to get out of the cookie cutter, despite them being dipped in flour. I would suggest rolling the dough a little thinner than they suggest and spraying the cutter with non-stick spray to see if that helps.
February 27, 2013
Related Searches:
Similar Products:
Also check out:
$9.99

Beyond Value

(30 Reviews)
$20.99 - $24.99
(1 Review)

$9.99

$4.99

Clearance!

(7 Reviews)

$9.99

$7.99

Clearance!

(7 Reviews)

$12.99 - $13.99
(18 Reviews)