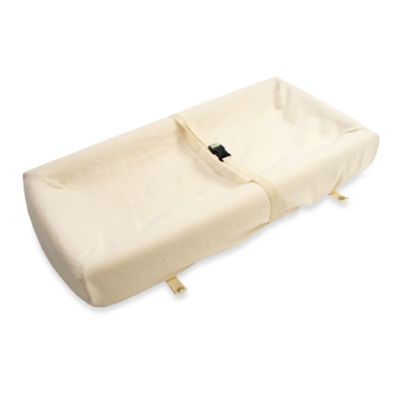 Naturepedic® Contoured Changing Pad Cover
100% organic cotton.
Measures 32" L x 16" W x 4" D.
Machine wash.
Made in the USA.
For use with contoured changing pads, sold separately.
For ages 0 to 4 months.
One year limited warranty.
SKU # 16155381
Naturepedic® Contoured Changing Pad Cover
3
3
Great Purchase
I bought this to fit over the 4 sided changing pad by Naturepedic, however I believe that this cover will fit over most changing pads as long as you check the dimensions of your changing pad. It is made of nice natural organic fabric and is very sturdy and has no factory smell! I haven't washed it yet so I don't know how it will hold up to washing but it is made very well from the looks of it. So if you don't want to spend the extra money on the Naturepedic pad this would be the way to go if you want something natural to cover your non-organic changing pad. I highly recommend this to extend the life of you changing pad and to make cleaning up messes easy!
June 14, 2012
Very nice cover
The cover material is very soft and it protects the changing pad well. It even seems to be a little bit waterproof. The liquid spills don't seem to absorb into it very fast. Overall a very nice organic option.
April 15, 2014
Fit could be better
I got one of these to go on my Naturepedic countoured changing pad. I didn't check the fit before washing it, thinking they were made by the same company and would have the be just fine. I was wrong! While I agree with the previous reviewer that the fabric is very nice - sturdy, soft - it does not fit the changing pad snugly. The belt on the changing pad causes it to bunch up at the edges. It also just isn't a snug fit anywhere else. There is a lot of extra fabric around the corners and where the contours are in the pad. I was disappointed. I asked for multiple on my registry, and ended up keeping the one that I washed, but getting a different organic product for back up covers. It did hold up very well in the wash - no shrinkage!
October 12, 2013
Related Searches:
Similar Products:
Also check out:
$64.99

Free Standard Shipping