New American 3-Tier Hanging Basket
Small basket measures approximately 7 1/5" in diameter.
Medium basket measures approximately 9" in diameter.
Large basket measures approximately 11" in diameter.
Hand wash.
SKU # 14595848
New American 3-Tier Hanging Basket
34
35
Not what I expected!:) :) Better!
For the price of this basket, I assumed it would handle a few things like small fruits and veggies. I am amazed how much this item can hold and you can hang it anywhere; kitchen or bath. Great idea to keep things off the counter!
September 22, 2014
Can't use
Product did not give the length of hanger. Too long for under a standard kitchen cabinet. Could not use
August 11, 2014
Do not buy
I bought this yesterday and it's been up for less then 24 hours with a couple of bananas in it and it broke, 2 of the 3 chain links broke apart near the top. It is fixable, but I'm sure the chain will just break again. Not very happy with the poor quality.
August 4, 2014
an additional chain would be nice...
This hanging basket is indeed very attractive, however the product design is thoughtless. I intended to hang the basket from my ceiling, which I did. The ceilings in my house have a standard ceiling height of 8 feet. Thus it became obvious what I could have thought about: the Hanging Basket hangs high up there and even though I am 5'8" I won't be able to reach any fruit other than fruit stored in the lowest basket. That means I will have to get a hook or find some other way to hang it lower, if I actually want to use this basket. Since the basket has a really nice finish I will have to look for a similar finish, which will take time. Of course I could have thought about that but what about the producers of the product... Shouldn't they really focus on the design of their product(s)? Would it have been too difficult to include a chain of approximately 2 feet in matching finish? Since the basket was produced in China that probably would not have cost more than 50 cents but added tremendous value and added to the user friendliness. I would have been glad to pay 50 cents or $1 more; driving to a home improvement market and search for a fitting chain is going to cost me more than that. This simple step could have saved me and other buyers, who are shorter than 7 feet the time to figure out how to make the product useable.
May 13, 2014
Piece of Junk
Loaded it up with fruit, and it pulled apart into a load of pieces. Cheap piece of junk. BBB should be ashamed to sell this.
March 23, 2014
EXTREMELY DISAPPOINTED
The day I received this I put it up. The instructions or box didn't contain a weight limit, but I put less inside than the picture showed on the box. Well the chain snapped and i immediatley emailed BBB asking for a replacement and never received a new one or even a response.
March 12, 2014
Love it!
Despite the reviews that this broke right away I still bought it. I'm so glad I did! I loaded it up with tomatoes, avocados, garlic, cucumbers, limes and onion. It has not broke and there's no problem w the chains.
March 2, 2014
Overall great for price and quality
The chains need some adjusting to get the baskets level but there is a removable clip to slide the chain up and down the baskets. Holds maybe 2-3 large onions on top, 8ish apples in the middle and 2-3 bunches of bananas below; overall very happy with my purchase.
February 26, 2014
Related Searches:
Similar Products: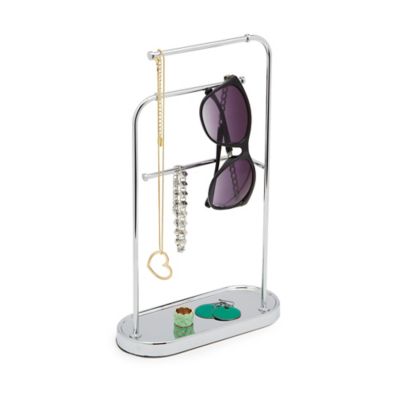 Umbra® Hi-Bar Organizer in Chrome
Price:
$14.99
Brand:
Umbra
Categories:
What's New > Storage & Cleaning
Showcase your jewelry and keep it close at hand with the multi-level tiered Umbra Hi-Bar Jewelry Organizer in Chrome. Each arm is staggered from each other to allow for ease of storage when hanging items and the dish at the base stores smaller acessories.