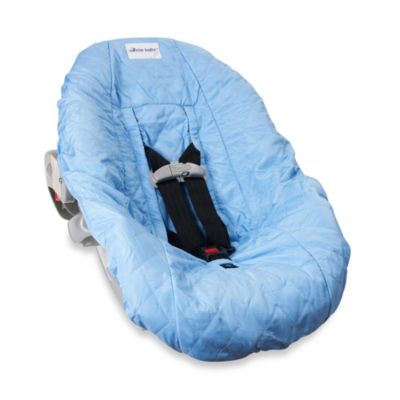 Nomie Baby® Infant Car Seat Cover
It also has a waterproof backing to protect your car seat from spills and accidents.
Fits most car seat makes and models.
100% polyester.
Machine wash.
Imported.
SKU # 17630636
Nomie Baby® Infant Car Seat Cover
6
7
Should be part of every layette
As necessary for a car seat as a sheet is for a crib.. Waterproof, washable, easy to remove and put back on. The best baby present you can give. The older the baby gets, the more nomie baby car seat cover is appreciated.
October 6, 2010
It's a must-have
If you have never tried to clean a car seat cover before, you have no idea how hard it is, but this nomie baby car seat cover makes it really easy and pain-free! They are really a must-have for all car seats!
October 6, 2010
Use it all the time
We have the nomiebaby infant car seat cover and use it on our BabyTrends All Star infant car seat. It started out as a huge help on long road trips, where bottles were being fed while we were on the road. Then the first "up the back" dirty diaper happened, which leaked out of the diaper and into our daughter's pants and shirt. Guess who didn't need to clean their car seat? That's right. We just took off the nomie baby car seat cover and threw it in the wash. I do a lot of laundry, so pretty much I cleaned it right away, but, I would recommend having a spare one in the car for if you have a mess in the car seat that you don't want to put your baby back into. Like you would a change of clothes. It's just good to just have a spare one while the other is dirty. I've given this as a welcome to the world baby gift, as it makes Mom's life a lot easier.
October 6, 2010
Love it
This really is so easy to put on, and even better it's a snap to clean! And COZY too!
October 6, 2010
Love this product
I love this car seat covers! It is so easy to put on, REALLY, and comes off quickly to go in the washing machine and dryer. It is soft and easy to use. LOVE IT!
August 14, 2012
A must-have
The nomie baby cover really is easy to slip on and off, and makes cleaning up so easy too. This is a must-have for everyone with kids. I give it as a gift, and my friends are so happy!
November 16, 2010
Related Searches:
Similar Products:
Also check out:
$24.99

Baby Registry Favorite

(14 Reviews)
$29.99

Exclusively Ours

(5 Reviews)