Non-Stick Oil Rubbed Bronze Barbecue Kabob Baskets (Set of 4)
High heat resistant sure-grip handles offer ease of use, and an oil rubbed bronze finish gives it an attractive look that is matched by its functionality.
Measures 19 3/4" L x 1 1/2" W x 1 3/8" D.
Hand wash.
Set of four.
SKU # 14877410
Non-Stick Oil Rubbed Bronze Barbecue Kabob Baskets (Set of 4)
12
12
Melted handle
I have 2 of these tools from another company, with wood handles. They are great. I bought this 4 pack for when we have company. The handles melted fast. The food is 3 inches from the handle. It is hard to cook meat less than 3 inches of the heat. I am disappointed in BB&B for selling such a poorly made produce. The price was cheap, and that is what I got, cheap. They are hard to clean.
August 27, 2014
Kabob basket review
I bought these baskets 1 year ago. We did have a problem with one basket "lid" coming loose, it was a quick fix - just pinch metal hinge tighter. I do spray the baskets with non-stick spray and do not have a problem with sticking. As for the plastic handles, I just think it is common sense not to put plastic in a grill! The baskets fit over the grates with the handles sticking over the edge. We especially enjoy making seafood kabobs with shrimp, onions and bacon wrapped scallops. I would recommend this product.
July 3, 2014
AWESOME - These are great!!!
I got these about a year or two ago, we use them all the time. For those that have had problems: 1. Don't put the handles in the grill, they are silicon and can withstand about 600 degrees, fire is much hotter... leave the handles outside or on the side of the grill. 2. Use at a lower temperature, food cooking in 5 minutes is not the tools fault it is the grillers fault. We use these all the time, load them up with whatever kabob you want, put them on the grill. You can pack a ton into each, the flavors inner mingle better, no sticks to catch on fire. Overall wonderful product for a great price.
July 3, 2014
Kabob basket review
We bought these baskets a couple of years ago and use them quite often. We've never had a problem with the handles melting. I did have one where the hinge opened up too much and came off but a quick squeeze with the pliers had us back in business. To clean them, I throw them in a sink with hot soapy water for 10-15 minutes, then I just throw them in the top rack of the dishwasher. No spray or scrubbing necessary.
June 3, 2014
Phenomenal Product
Apparently I must be the only one that knows how to read instructions. These baskets are great. The instructions that come with these are pretty clear not to leave the handle over the open flame as well as not to close the lid on the grill. The rubber handles are heat resistent, not flame resistent. I've used these baskets over a dozen times and have not had a single issue. To clean them, just soak them in the sink for a couple hours with some dish soap and they clean up perfectly. I would highly recommend these baskets to anyone that loves kabobs, but hates having veggies and meat fall off the skewers.
August 26, 2013
Dangerous product!!
These are a great idea in concept, however, because of the plastic handles, they are dangerous! They are supposed to by heat resistant, right? Well, they caught on fire after only a very short time on the grill (long enough to go in and check something on the stove and come back out to check the grill). They destroyed by grill, it caused the entire front of the grill to catch fire. Don't buy these!!! They need to be designed with just metal handles for safety!
May 18, 2013
Handles Melt!
This gift was given as a mother's day present, and almost ruined mother's day because the handles melted onto the grill and food within 5 minutes of being on the grill. I do not recomment.
May 13, 2013
Confused of other reviews
Odd, we have used these baskets several times this summer. Handles still fine, cleans in upper dishwasher. Very little sticking. Do we take better care of items? Buying some for presents soon.
September 4, 2012
Related Searches:
Similar Products: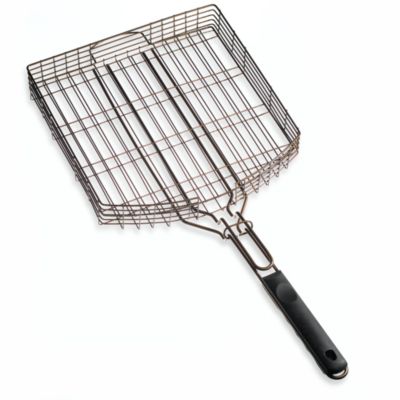 Oversized Deluxe Non-Stick Oil Rubbed Bronze Barbecue Grilling Basket
Price:
$14.99
Categories:
Seasonal > Grills & Outdoor Cooking > Outdoor Cookware
Enjoy perfectly grilled hamburgers, steaks, chicken, seafood and vegetables with this oversized deluxe non-stick grilling basket.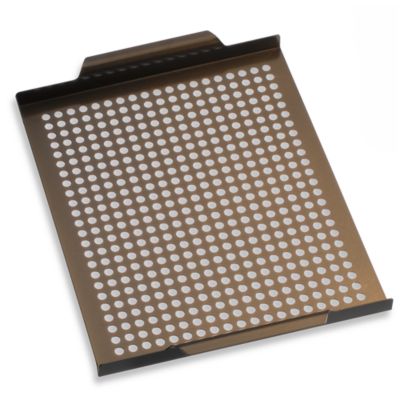 Non-Stick Oil Rubbed Bronze Barbecue Grill Topper
Price:
$9.99
Categories:
Seasonal > Holiday Shop > Father's Day
This practical non-stick barbecue grill topper is ideal for grilling seafood and vegetables. Design prevents small food items from falling through the grate.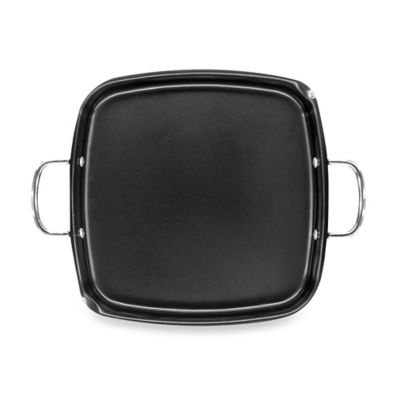 Non-Stick Oil Rubbed Bronze Deep Dish Griddle
Price:
$12.99
Categories:
Seasonal > Grills & Outdoor Cooking > Grill Tools & Accessories
Perfect for blackening, frying and searing, this deep dish griddle turns your barbecue into a gourmet kitchen. The griddle has a premium oil rubbed bronze finish, a non-stick interior for easy cleaning, and is made from commercial grade carbon steel.
Also check out:
$14.99

Exclusively Ours

(2 Reviews)

$49.99

$50 Bonus Gift card with $300 Calphalon Purchase

(28 Reviews)

$6.99

Exclusively Ours

(7 Reviews)

$14.99

Beyond Value

(5 Reviews)

$9.99 - $19.99
(4 Reviews)