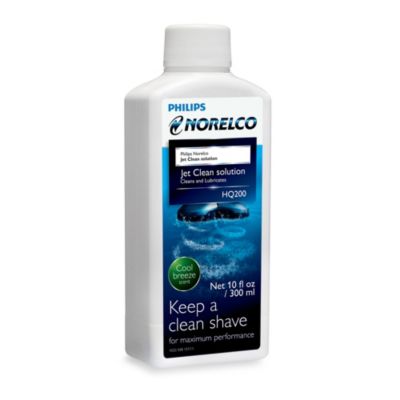 Norelco 10 oz. Jet Clean Solution
Good for up to one month of daily cleaning
For use with Norelco 7800XLCC, 8170XLCC, 8160XLCC, 9170XLCC and 9160XLCC models
SKU # 14279342
Norelco 10 oz. Jet Clean Solution
4
7
Good Product
It is a very good product,...but I have little choice in the matter...its buy this product for my jet clean system or don't use anything. Norelco is the only company that makes it.
August 4, 2014
Great shaver head cleaner
This shaver head cleaner works great, although it is pretty expensive for a cleaning solution. I have read that you can make your own solution, but then you have to make a new batch every week, have a container to store it, etc. Bed Bath & Beyond makes it easy to buy online and ships almost immediately. It's worth it to me.
April 1, 2014
Quality brand, reasonable price, free shipping
I recently bought a 3 10oz bottle of Norelco Jet Solution in a local Bed, Bath, & Beyond store but they ran out stock so the associate ordered online for me. Great service plus free shipping right at my home. I really like this product since I also have the Philipps Norelco Shaver which I've been both using these for 3years now.
March 12, 2014
Works, but not like the picture
The item that comes is not like the picture. I purposely purchased this item because it is what we have always used. However, when it came, it was not a round bottle like the picture, but an upright bottle. The scent is a bit different also, but still cleans effectively.
April 4, 2013
Related Searches:
Similar Products:
Also check out:
$39.99

$5 Manufacturer's Rebate Available

(3 Reviews)

$39.99

$5 Manufacturer's Rebate Available

$219.99

Price reflects $30 instant rebate

(8 Reviews)

$29.99

$5 Manufacturer's Rebate Available

(1 Review)

$29.99

$5 Manufacturer's Rebate Available

(1 Review)

$10.99

Free Standard Shipping

(51 Reviews)

$10.99

Free Standard Shipping

(52 Reviews)
$29.99

Free Standard Shipping

(3 Reviews)

$29.99

Free Standard Shipping

Exclusively Ours

(29 Reviews)

$34.99 - $59.99
(68 Reviews)

$11.99

Free Standard Shipping

(5 Reviews)

$19.99

Exclusively Ours

(2 Reviews)